Nacho Vigalondo on "Extraterrestrial" and personal philosophies of filmmaking and karaoke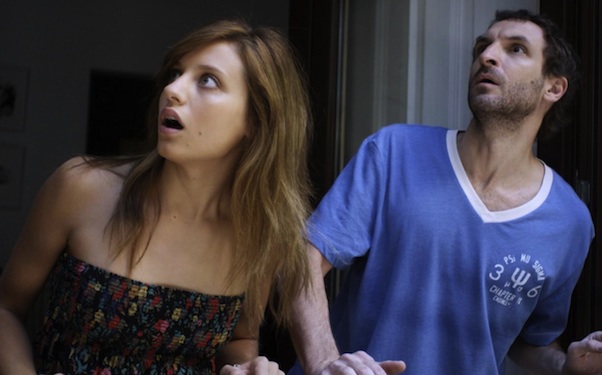 Posted by Matt Singer on
Of course I interviewed director Nacho Vigalondo in a karaoke room. If you want to find Vigalondo at Fantastic Fest, a karaoke room at The Highball (a.k.a. the Alamo Drafthouse's bar-slash-bowling-alley-slash-karaoke-palace) is always the best place to look. The man takes karaoke seriously, as evidenced by this photo he posted on Twitter just last night. During our interview about his new movie "Extraterrestrial," Vigalondo repeatedly picked up and flipped through one of the Highball's binders of karaoke songs, like a junkie absent-mindedly fiddling with a needle while waiting for his dealer to bring his next fix.
As a bit of a karaoke nut myself, I had to start our conversation there. And, as it turned out, Vigalondo's personal philosophy about karaoke informs his personal philosophy about filmmaking which, in turn, guided the making of "Extraterrestrial." Vigalondo likes to perform songs he's never tried before; in turn, his new film is a major departure from the intricate cinematic gamesmanship of his last project, the cult sci-fi hit "Timecrimes." The science-fiction in "Extraterrestrial" is really just the large-scale background for a small-scale character study about two people, Julio (Julián Villagrán) and Julia (Michelle Jenner), who awaken in an apartment together after a night of drunken carousing neither can remember and find the city around them abandoned while flying saucers hover in the sky. As the mysteries grow so does the sexual tension, as Julia's neighbor Angel (Carlos Areces) and her boyfriend Carlos (Raúl Cimas) both arrive and complicate the survivors' living arrangements and mutual attraction.
After the karaoke questions were out of the way, and with star Villagrán looking on, I asked Vigalondo why he wanted to follow the popular "Timecrimes" with such a different kind of sci-fi movie, where his love of UFOs comes from, and whether his very unusual alien invasion movie — in which the invasion happens entirely off-screen — was made in reaction to the way Hollywood usually treats these stories (i.e. with a lot of money and little character). And when the interview was over, the director grabbed the remote that powered the room's karaoke machine and fired it up.
You're looking at the Highball karaoke list, so let's begin there. What's the best karaoke song ever?
It might be "Sweet Child of Mine" because it's long and epic and catchy. If you're drunk, it's a lot of fun to sing.
What does it take to be a karaoke expert?
It's not about being an expert. I love karaoke because it's one of the few activities in which failure is more important than winning.
That's true. A spectacular karaoke failure is arguably more fun to watch than a really good rendition of something.
Yeah, I don't like when people pick songs they know how to sing. For example, yesterday I was singing Gnarls Barkley's "Crazy" and the reason I picked it is because I never sang that before. I don't want things to work well at karaoke. When you go to karaoke and you see a girl who sings in an awesome way, it doesn't make sense. You have to fail.
How does this theory of karaoke apply to filmmaking? Do you have to be willing to fail spectacularly there as well?
[laughs] Okay, yeah.
You have to be willing to try something you haven't tried before.

Totally. And you have to be wild somehow. You have to irrational at times, and you have to have fun. Some directors hate shooting; I love to shoot. Shooting for me is not the dark part of the contract. I really love shooting because shooting is one of the few occasions you have in life to have a real adventure. We don't go to the jungle anymore, because the jungle is already explored. We don't go to the North Pole, we're not going to solve a mystery, but when you're shooting, taking a bunch of adults into a strange place and ordering them to make ridiculous things that don't make sense until the very end when you watch it all edited together, it's an awesome thing. Anything can happen when you're shooting.

For example, one of the most complicated days in the shoot was when we were shooting the fight sequence [between Julio, Angel, and Carlos] because that was the very last day we had in that flat. That was the very end of the day and we were exhausted and we didn't have any kind of special safety equipment. If a shot didn't work, we didn't have time to reset it and because we had to leave in an hour. It was like a climax in a film, like at the end of "Back to the Future" when they only have one chance to catch the lightning bolt with the wire. That happens all the time when you make a film. You have just one chance to make things good. I love that.
Was the movie inspired in some way by watching other alien movies and feeling like your own reaction to that kind of event wasn't represented?
No, I didn't want "Extraterrestrial" to go against any other movie; I just wanted to make this one. I'm not against movies like "District 9" or "Battle: Los Angeles" and I didn't want to make a movie that's against those kind of movies. In fact, I love alien invasion films. I'm not guided by hate of those other films. I just loved this idea about this guy who wanted to be close to this girl. I loved this story.
How much of the movie was driven by desire to make something different than "Timecrimes?"
That's a deliberate thing. You know what happened with M. Night Shyamalan? He made three films with a similar structure, and then everyone began expecting the same thing from him again and again. Once he made "Lady in the Water" — which I don't think is as bad as people say — people reacted negatively because they were expecting a big twist at the end. I prefer to be free; I don't want to be a victim of my own success in that way. So, yeah, I have ideas for other mystery films with big twists. But when I laid out all my ideas on the table, I picked "Extraterrestrial" because it was the total opposite of "Timecrimes." I don't want to follow a path.
It's not what people expect from me, and I know that some people are going to be disappointed with it for that reason; I read some reviews that were disappointed that it's not "Timecrimes." I'll accept disappointing people that way if we can surprise other people in a good way. In other words, I prefer to play with expectations instead of satisfying expectations.
I love the way the film opens almost like an old "Twilight Zone" episode with all this ambiguity. The characters don't quite know where they are or what's happened, and to the audience, anything feels possible. How do you direct the actors to create that sense of ambiguity? You have to be very cagey with what you reveal or don't reveal.
What I told [lead actor] Julián [Villagrán] was, "Have you ever had a massive hangover?" That's it. When a movie's ambiguous, it's the movie itself that's ambiguous, not the elements inside it. I can't tell the actor to play ambiguous. That's not fair. He's just a guy who wakes up in the morning with a hangover.
I had written a sequence in which we see the characters meet the previous night. It was such a funny sequence; one of my favorite scenes in the script. But I found that the movie played better without it.
A few years before "Extraterrestrial" you made a similarly themed