Marvel's short film "A Funny Thing Happened on the Way to Thor's Hammer" hits the web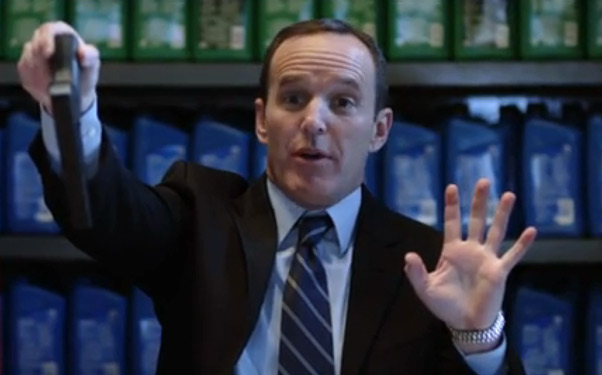 Posted by Terri Schwartz on
It turns out there's a really good story behind why it took Agent Phil Coulson until the end of "Iron Man 2" to discover Thor's hammer. The latest Marvel short film follows Coulson (Clark Gregg) as he makes a quick pit stop to grab some gas while heading towards the S.H.I.E.L.D. facility in New Mexico. He gets held up while trying to decide whether he should buy the sugar or chocolate coated donuts, and bad-assery ensues.
Appropriately titled "A Funny Thing Happened on the Way to Thor's Hammer," the short will appear on the "Captain America: The First Avenger" DVD and Blu-ray, which hits stores on October 25. It is the follow-up to "The Consultant," a short that bridges the gap between "Iron Man 2" and "The Incredible Hulk" which also appears on the DVD extras. Though "A Funny Thing" doesn't answer as many questions as "The Consultant" does, it offers Gregg a chance to get in on the action for the first time in the Marvel movies.
These are the only two announced Marvel One-Shots, but the way Gregg has talked about them in the past made it seem like Marvel is up for doing more. He explained to Marvel.com earlier this month how the idea for the short films originated.
"I got a call from a rising young executive over at Marvel named Kevin Feige to talk about the Avengers," he joked. "In that conversation he said they had this crazy idea. They want to do some shorts about a couple of different days in the life of Agent Coulson. Some [would be] connective tissue between the movies and others are behind-the-scenes in the day of a S.H.I.E.L.D. agent, and in my mind [Agent Coulson is] the S.H.I.E.L.D. agent. And I said that sounds amazing! Usually when I'm asked to do a short it's somebody's grad project at AFI or a student film, but this was an entirely different ball game."
What did you think of this latest Marvel One-Shot? Do you hope Marvel keeps making them leading up to "The Avengers"? Let us know in the comments section below or on Facebook and Twitter.