"Martha Marcy May Marlene," reviewed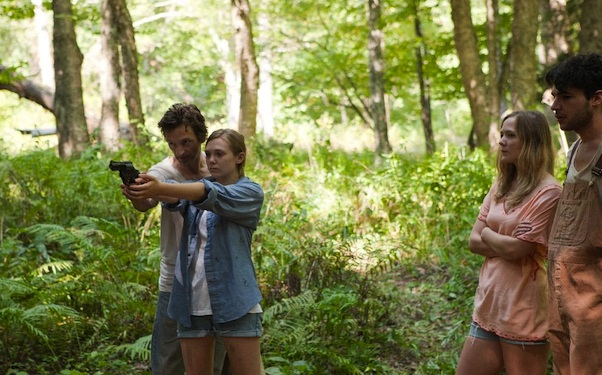 Posted by Matt Singer on
Early one morning, Martha (Elizabeth Olsen) wakes before the rest of her fellow members of an unnamed cult, and runs off into the woods around the dilapidated farmhouse where they all live. She stops to eat at a coffee shop somewhere, and one of the men from the cult (Brady Corbett) catches up with her. He comes in and sits across from her at a booth, and encourages her to return with him. Then he eats her food without asking permission and leaves. He doesn't threaten Martha, who he calls Marcy May. He doesn't have to. Even after Martha physically escapes, she's still mentally trapped back on that farm.
It's that sad and disturbing fact that lends "Martha Marcy May Marlene" its unsettling power. The details about this cult — its horrifically abusive initiations and peculiar daily rituals — are all important and interesting, and they're certainly a very marketable hook for a movie with a first-time director and few recognizable actors. But this movie is really a character study of a deeply troubled girl who discovers that once you've lost your identity it's almost impossible to find it again.
Martha is rescued from a bus stop by her sister Lucy (Sarah Paulson) and taken to the lake house where she is vacationing with her husband Ted (Hugh Dancy). There's no evidence that anyone from the cult has followed her or has any idea where she is. For all intents and purposes, Martha is free and safe. If only she could convince herself of that fact. When sounds or images remind Martha of things that happened to her on the farm, the film drags her back there for prolonged, painful flashbacks. A noise from the lake house roof may trigger a return to one of the cult's home invasions, where they'd toss stones at houses in the middle of the night to see if anyone stirred before they broke in. Writer/director Sean Durkin shoots the lake house and farm to look almost identical, which often makes us feel as disoriented as Martha. It's just one of the many ways Durkin and his editor, Zachary Stuart-Pontier, put us inside their heroine's tortured headspace.
Durkin's screenplay is sparse and exposition is minimal; again, the better to disorient us and help us to understand Martha's confused perspective. And as the subject of all this confusion, Olsen is fantastic. The worse the character unravels, the better Olsen's performance gets. She pulls off a very difficult feat here: she manages to be simultaneously sympathetic and also kind of unlikable. As a member of the cult, Martha makes some horrible choices. Back with her family, she remains aloof and even cruel, even as Lucy and Ted try everything they can think of to make her feel welcome.
Though Olsen is the undeniable standout, the rest of the cast is very strong as well, with Paulson and Dancy striking just the right notes of concern and exasperation, and John Hawkes oozing equal amounts of charm and menace as the leader of the cult. The twin timelines build to a crescendo of violence and madness that caps off the only way this story really can, with even more uncertainty. That could be frustrating if "Martha Marcy May Marlene" weren't
ultimately about putting the viewer inside the mindset of someone made a prisoner by their own memories. Durkin's brilliant final shot ensures we're held captive by our own dark thoughts long after we leave the theater.
"Martha Marcy May Marlene" is now playing in limited release. If you see it, let us know what you think. Tell us in the comments below or on Facebook and Twitter.