Countdown to Top Ten 2K11: "Margin Call"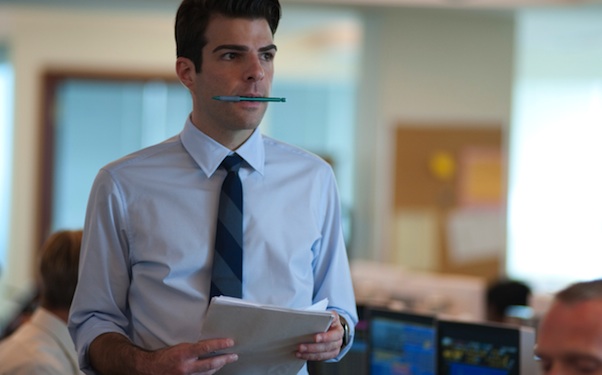 Posted by Matt Singer on
Countdown to Top Ten 2K11 is a column with one simple goal: to help you decide what films you need to see before making your end of the year top ten list. Each installment features my thoughts on a critically acclaimed 2011 movie, a sampling of other critics' reactions, the odds of the film making my own list, and the reasons why it might make yours.
This week, we're covering one of the biggest hits on the festival circuit this year, the financial collapse drama "Margin Call." Is it more entertaining than watching your retirement fund vanish in an afternoon? Let's find out.
Movie: "Margin Call"

Director: J.C. Chandor
Rotten Tomatoes Score: 85%
Plot Synopsis: Twenty-four hours inside a powerful investment bank on the eve of the 2008 financial collapse. A young analyst (Zachary Quinto) stumbles onto a formula that forecasts doom for his firm, then watches as the news makes its way up the corporate ladder to the very top of the company. Did they catch disaster in time to prevent it? And if they did, will they even try?
What the Critics Said: "It's a hell of a picture," David Edelstein, New York
"Feels like the 'Fail Safe' of our time," Scott Tobias, The AV Club
"The best Wall Street movie ever made," David Denby, The New Yorker

Were They Right? I don't know if it's the best Wall Street movie ever made, but it is a hell of a film. It's a hell of an unusual one too; I can't recall the last time I watched a movie this engrossing in which, moment to moment, I had no earthly idea what anyone was saying. The characters in "Margin Call" talk like (and in some cases literally are) rocket scientists. Though some of their colleagues occasionally ask them to dumb their math talk down, they never really do. Most of the specifics pass over our heads. All we know is things are bad and they're about to get much worse.
And that's all we need to know. The 2008 financial collapse is a fait accompli from the second "Margin Call" begins with a bunch of people, including risk management analyst Eric Dale (Stanley Tucci), losing their jobs. As he's escorted out of the building, Dale gives his former subordinate, Peter Sullivan (Quinto), a flash drive and a two-word warning: "Be careful." Sullivan pops in the drive, crunches a few numbers, and realizes what we already know: the end is nigh.
The apocalyptic overtones would be hard to shake in any film set in this time and place, but writer/director J.C. Chandor really plays up parallels between his story and the Biblical end of the world. When Dale and three out of every seven people at the firm are all let go on the same morning, that's the Rapture. Those left behind are initially relieved to still have jobs. But Sullivan's discovery means those that got fired were lucky; the survivors now have to face Armageddon.
With meltdown a foregone conclusion, "Margin Call" is less of a thriller than an ethnographic study of what happens to people of a small, insular world as it crumbles around them. We can follow the story even if we can't follow the math because the root of the problem goes deeper than a misguided algorithm; it's the people and their uncontrollable urges toward self-enrichment and self-preservation that are truly to blame. In their tower high above Manhattan — Chandor repeatedly frames the players in this drama in front of enormous windows that overlook the serene, oblivious skyline — Sullivan's bosses have found ways to divorce themselves from the moral implications of their work. "It's just money. Made up. Pieces of paper of pictures on it so we don't have to kill each other to get something to eat," says Jeremy Irons' chairman of the board as he nonchalantly plots to destroy the an entire global economy just to save his own skin. The perverted ethics of this company are utterly believable and totally terrifying.
Chandor's script occasionally goes overboard with heavy-handed metaphors; for a bunch of characters who communicate almost entirely in incomprehensible arithmegibberish, they're weirdly prone to poetic observations. But his film is almost as ruthlessly effective as the executives it follows. My favorite scene comes in the third act; for several scenes, characters have pressured Kevin Spacey's character into acquiescing to Irons' plan and encouraging his team to participate in a truly heinous act. We know he's going to motivate his team to perform an unsavory task and we're wondering how he's going to do it. The answer, in or any world, is so simple: just offer them a shit-ton of money.
Could Get Oscar Nominated For: Best Supporting Actor, Kevin Spacey. Also if they gave an award for Best Screenplay That I Couldn't Understand Half the Time, it'd be a mortal lock.
Chances of Making My Top Ten: Slim, but that says more about the overall caliber of movies this year than it does the caliber of this movie.
It Might Make Your Top Ten List If: you love character dramas with great ensembles; impenetrable financial jargon turns you on.
"Margin Call" is now playing in limited release. It is also available on VOD and iTunes. If you see it, tell us what you think; leave us a comment below or write to us on Facebook and Twitter.
Previously in Countdown to Top Ten 2K11
"Bill Cunningham New York," directed by Richard Press
"Hanna," directed by Joe Wright