Six years in the making, "Margaret" is worth the wait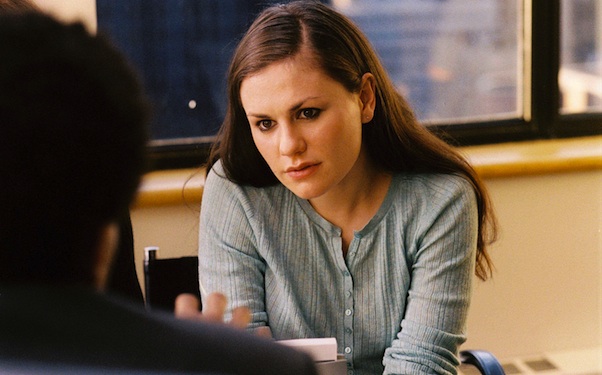 Posted by Matt Singer on
First, an apology. In writing up the trailer for "Margaret" on IFC.com, I invoked Gene Siskel's old litmus test for movies: is a film more interesting than a documentary of its actors having lunch? "I have to imagine," I said, "that no matter how interesting 'Margaret' is, a lunchtable documentary of its actors (Anna Paquin, Matt Damon, Mark Ruffalo, Matthew Broderick, and more) would be more interesting."
I was mistaken. I'm sorry.
Despite the film's inordinately tortured history — six years and three lawsuits in the making, according to The Los Angeles Times — no documentary about its creation could compare with the drama of the film itself. Most of the backstage battles revolved around writer/director Kenneth Lonergan's inability to cut the film down to the two hour and thirty minute runtime his contract demanded. He refused to trim the film, other editors and filmmakers got involved (including Martin Scorsese, at one point), and legal proceedings were brought, all before the film was finally chopped down to an acceptable length and quietly released into theaters last week. Fingerprints of editorial distress are clearly evident in the film itself, which is a 150 minute long swirl of characters and themes and ideas that don't always fit together neatly. In some ways, though, the film works better that way. If nothing else, "Margaret" teaches us that life does not fit together neatly. Why should the movie itself do otherwise?
What is "Margaret" about? God, what isn't it about. On a narrative level, it follows a New York City teenager, Lisa Cohen (Anna Paquin), who plays an unwitting hand in a fatal bus accident. But saying "Margaret" is about a girl involved in a bus accident is like saying "The Godfather" is about a old mobster who likes to pet cats. It's also a family drama, a love story, a cynical look at the American legal system, an evocation of post-9/11 New York City, and as honest and unflattering a portrait of adolescence as I've ever seen onscreen. It's a movie about guilt, responsibility, and the nature of art and its interpretation. First written in 2003 as Lonergan's follow-up to his acclaimed debut "You Can Count On Me," "Margaret" is a classic sophomore film: a movie heavy on ambition and ideas and light on restraint. Very light. In my book, and in this case, that's a good thing.
It's a shame that the biggest hang-up between Lonergan and his financiers was the film's length: "Margaret" blows through two and a half hours and still feels too short. Like a teenager growing into their adult identity, it's constantly discovering new facets of itself before our eyes. The 9/11 overtones first kick in during the first few minutes, as Lisa's naive, self-absorbed innocence is suddenly destroyed by a moment of unexpected tragedy. While out shopping for a cowboy hat, Lisa spots one on the head of an MTA bus driver (Mark Ruffalo). She tries to get his attention and does so all too well; the driver gets distracted and plows into a pedestrian (Allison Janney). In an instant, Lisa's world changes. The accident's brutal aftermath, in which the injured woman slowly dies in Lisa's arms, is easily one of the best and most harrowing scenes in any movie this year.
That's certainly "Margaret"'s high point, but it's far from the only highlight: the film is littered with brilliant scenes, pitch-perfect dialogue, and unforgettable performances (it is also admittedly littered with a few less-than-brilliant scenes with tinny dialogue, and the occasional, forgettable narrative non-sequitur, most involving Lisa's mother's new boyfriend, played by Jean Reno). Paquin, channeling all the charm, rage, and confusion of teenage life at its best and worst, deserves consideration as the Best Actress of 2011 (or, technically speaking, 2006). J. Smith-Cameron (Longergan's wife) is wonderful as Lisa's mother, and Janney is absolutely mesmerizing in her one scene. Can you win an Oscar for one scene? Beatrice Straight won one for about five minutes of screentime in "Network." I wasn't clocking it, but I would guess Janney is onscreen for about that long. And she's unforgettable.
Some of the editing choices are problematic — a few scenes end abruptly, others linger for too long — but "Margaret" is bursting with so much cinematic food for thought it is easy to overlook its occasional shortcomings. At a time when it feels like movies have abandoned novelistic complexity to television, "Margaret" stands nearly alone as a massive, multidimensional cinematic character study. Throughout the film, Lisa questions whether to keep the bus driver's (and her own) involvement in the pedestrian's death a secret, a process that mirrors the way her social studies class debates the United States' response to 9/11. Ultimately and most fundamentally, I think the movie is asking what, if anything, is the appropriate response to tragedy. And once we've committed a mistake in the name of tragedy, how can or should we make things right?
In this case, I think the way to make things right is to go see the film. Clearly the best outcome for all involved now isn't a documentary about the actors having lunch; it's a documentary about the entire production bundled in a Criterion Collection Blu-ray box set that includes all the various cuts of the film: Lonergan's director's cut, Scorsese's compromise cut, and the final theatrical release. In the meantime, the film is playing for at least another week in New York City, and opening tomorrow in a few more cities, including Boston, Chicago, Dallas, Philadelphia, and San Francisco. It took six years to make this movie. Do yourself a favor: don't wait six years to see it.
"Margaret" is now playing in limited release. To find out if it's playing near you go to its official site. To tell us what you think of the film if you see it, leave us a comment below or on Facebook and Twitter.