"Man of Steel" set photos show Amy Adams as Lois Lane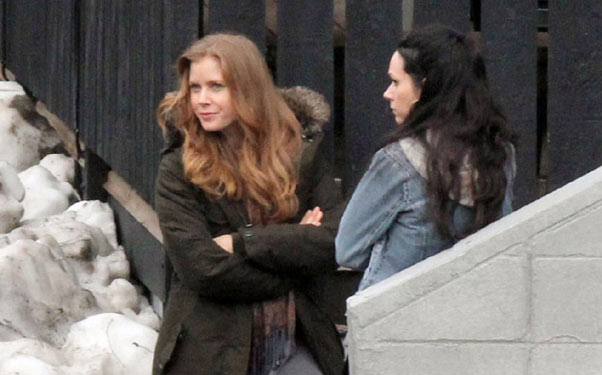 Posted by Terri Schwartz on
If you were still harboring some hope that Amy Adams was planning on dying her hair brown for her role of Lois Lane in Zack Snyder's "Man of Steel," toss it away now. New photos from the Vancouver Island set of the upcoming Superman film show that Adams is still sporting her token red locks.
The set photos, courtesy of SuperHeroHype, show Adams's Lane interviewing a waitress at an Alaskan truck stop. It's unclear why Lane needed to go from Metropolis to arctic climes, but it probably has something to do with a certain superhero in blue spandex and a red cape. The photos show Adams interviewing the waitress as well as receiving direction from Snyder.
Plenty of other set photos have hit the web, and together they offer a good look at what Snyder's take on the Superman mythology will look like. Recent stills show what Russell Crowe will look like as Jor-El, and (sort of) how Michael Shannon looks as General Zod. Then there are all those unofficial shots of Henry Cavill as Superman that do a much better job of showing off his costume than the only official still did.
It won't be until the first "Man of Steel" teaser hits the web, though, that fans will really be able to get a sense of what Snyder's movie will look like. It's been a long time since he made a movie that didn't rely heavily on CGI (looking at you, 2004 "Dawn of the Dead" remake), and it will be interesting to see whether he returns to that style of filmmaking in "Man of Steel." With filming still underway and "Man of Steel" not due out until June 14, 2013, it seems like a trailer is still pretty far off. There will likely be many more set photos hitting the web in our near future, though.
Do you like Adams's look as Lois Lane? Tell us in the comments section below or on Facebook and Twitter.