Judd Apatow 30-year career timeline: from stand-up comedy to his "Knocked Up" spin-off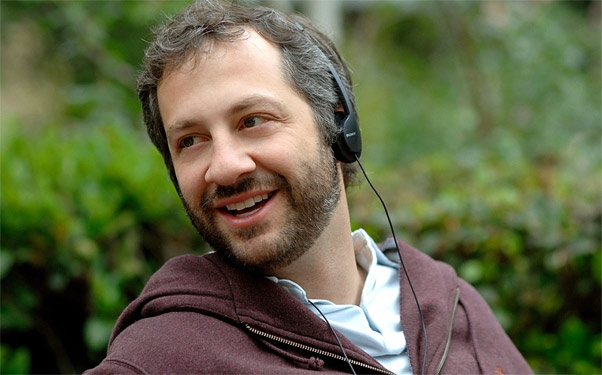 Posted by IFC on
Judd Apatow was defined by the comedy of his generation and he's turned around and used that to define the comedy of the next generation. This is not just a list of things Judd has done in the past, but it's also a chronicling of his rise to power. Here is the life of a comedy nerd made good – made very, very good.
---
1967:
Born in Flushing, New York, to real estate developer Maury Apatow and Tami Shad, who divorced when he was 12. He also has an older brother Robert and a younger sister Mia. He lived with his dad most of the time and grew up watching shows like Dinah Shore, Merv Griffin, The Tonight Show, Late Night with David Letterman, etc. "I was watching TV until about 3-3:30 to 1:30 in the morning for years." He spent a lot of time alone in his room, but lest you think that's sad, he says he was "laughing his ass off watching Jay Leno in 1979 on The Mike Douglas Show." His favorites also included Steve Martin, David Brenner, Jeff Altman and even Michael Keaton's early stand-up work. He was even transcribing episodes of "Saturday Night Live" at age 10. This is a comedy nerd writ large.
1982-3:
In 9th grade, his mother gets a job seating people at a comedy club, and he would go there all the time to watch comics – Paul Provenza was the first young comedian he ever saw. He later realized his mom's job was likely the worst ever, but says "I like to think she did it because she knew I would like it. Like a gift to me." He later got a job as a busboy at Rick Messina's East Side Comedy Club so he could watch sets from people like Eddie Murphy and a rookie Rosie O'Donnell
1984:
Worked at the Syosset High School 10-watt radio station WKWZ and hosted the "Club Comedy" program, which allowed a 16-year-old kid to wrangle interviews with guys like Jerry Seinfeld, Jay Leno, Garry Shandling, John Candy, Harold Ramis, Howard Stern and even Steve Allen. Some of these interviews can be heard on Apatow's 2-part episode of Marc Maron's WTF podcast (where the quotes for this piece are coming from), and they really helped him learn exactly how the comedy business works.
1985:
Started stand-up comedy during his senior year of high school. Moved to Los Angeles to join the screenwriting program at USC, where he started organizing comedy nights on campus, volunteering at Comedy Relief and working at the Improv introducing other comics. Soon figures out he's a better writer than a comic, thinking he didn't have a strong enough point of view, so he starts writing for other comedians, too, leading to him becoming co-producers on some of their specials – such as Roseanne Barr.
1990:
Meets Ben Stiller outside of an Elvis Costello show, a man he'll eventually name as the beginning of modern comedy. Also during this time, Apatow is sharing an apartment with Adam Sandler.
1992:
Appears on HBO's 15th Annual Young Comedians Special, also becomes producer of the critically acclaimed "The Ben Stiller Show" on Fox, which nonetheless gets cancelled the next year. "I didn't know what the hell I was doing," he said. "I just was the guy trying to hopefully figure out how to not have Ben realize I didn't know how to do anything but write stand-up jokes. I was just keeping my mouth shut and listening to Ben. I was just faking it."
1993:
Hired as a writer and producer for "The Larry Sanders Show," starring Shandling, who he credits as his mentor for steering him towards character-driven comedy.
1994:
Becomes a staff writer and consulting producer on the Jon Lovitz animated series "The Critic."
1995:
Wrote and produced the comedy "Heavyweights" where Ben Stiller plays a fitness guru who takes over a fat camp for kids. Well-received but barely heard of.
1996:
Jim Carrey's "The Cable Guy" is released, a movie he was hired to re-write, on the set of which he met Leslie Mann, his future wife (one year later, even) and star of several of his movies. He also guest-starred on Adam Sandler's album "What The Hell Happened To Me?" and wrote and produced "Celtic Pride," a basketball comedy with Damon Wayans and Dan Aykroyd.
1999:
"Freaks and Geeks" premieres on NBC, the most personal project he'd done to that point as a director, writer and producer, co-creating with Paul Feig. Set in the early 1980s and starring Seth Rogen, Jason Segel, James Franco, Linda Cardellini, Martin Starr, Samm Levine, Busy Philips and John Francis Daley, it followed the lives of a trio of nerds, a group of outcasts and a girl transitioning between them, and also featured a geek using "The Jerk" as a barometer of whether or not he should continue dating the cheerleader he'd miraculously landed. It's also notable for the most noble depiction of a Dungeons and Dragons game ever. It had a devoted fan following, but not enough to keep it from being cancelled after only 12 of its 18 episodes had aired.