Joss Whedon reveals "Much Ado About Nothing" details, will hit film festivals in 2012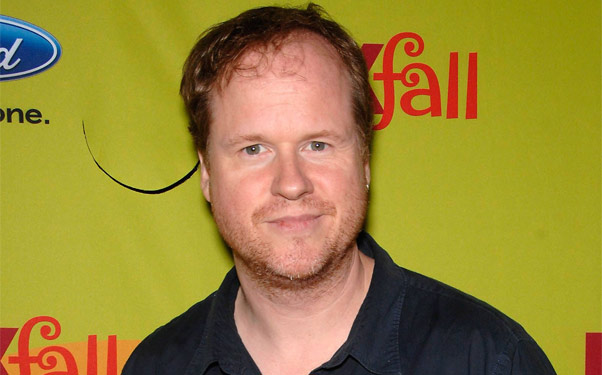 Posted by Terri Schwartz on
When fans of Joss Whedon discovered that the beloved television director was going to be helming "The Avengers" for Marvel, speculation ran rampant as to which of his circle of actors from the Whedonverse he would call upon to be a part of the film. Would Nathan Fillion play Hawkeye or Eliza Dushku play The Scarlet Witch? In the end, Whedon didn't chose any familiar faces from his previous projects, but he's making up for that now.
In the month since "The Avengers" wrapped, Whedon cast and shot a modern adaptation of William Shakespeare's "Much Ado About Nothing," which was announced yesterday by "Firefly's" Fillion. The movie pretty much only sports familiar faces from "Buffy the Vampire Slayer," "Angel," "Firefly," "Dollhouse" and even "The Avengers." Whedon and two of his stars — Amy Acker ("Angel," "Dollhouse") and Sean Maher ("Firefly," "Serenity") — caught up with Entertainment Weekly to spill the beans about the film.
"It's very modern. The language, the jokes, and the attitudes translate really, really easily. [The actors] do say the words as they're written [in the play], but they connect to a modern audience in a way that portions of the other comedies don't necessarily," Whedon said of his adaptation.
The movie is shot in black-and-white, and Whedon said that's because he views it as a "noir comedy." It's an adaptation he's been wanting to make for many years, and even did a reading of it with Acker and Alexis Denisof ("Buffy the Vampire Slayer," "Angel," "Dollhouse") three years ago. That was when he knew he wanted them to star in the film.
But it wasn't until he wrapped "The Avengers" and he and his wife Kai were about to go on a month-long vacation to Italy to celebrate their 20-year anniversary that Whedon was convinced to make the film. Kai, with whom he co-runs the production company Bellwether Pictures, suggested that he create this film in that month instead. And so he did.
Whedon made some calls to some of his regulars, like "The Avengers'" Clark Gregg and "Buffy," "Angel" and "Cabin in the Wood's" Tom Lenk, to join the ensemble cast, and they quickly came running. He financed and shot the entire project in his Santa Monica estate, and wrapped shooting in 12 days (it ended on Saturday). Since production only lasted a month — and he very nicely asked his cast not to tweet about it — Whedon managed to keep the film a secret until he was ready to announce it. He says he plans to start bringing the movie to film festivals in early 2012.
"I've just been enjoying the Internet response. We're feeling our way on this one, just like 'Dr. Horrible.' I do mean it to be in theaters. But we haven't gotten any real plan except [going to] film festivals because it sounded like it would be festive," Whedon said.
Acker said she wasn't quite sure what to expect when Whedon asked her to join the movie, but came on board immediately anyways.
"Alexis and I met with Joss maybe one or two times right after we decided that we were doing it, and then we rehearsed kind of the week before. But when we showed up the first day, I was like, 'Oh, this is a real movie!'" she said. "We didn't quite know what it was going to be, and seeing all of the trucks and the lights and everything, everyone was kind of like, 'Oh, we really are doing a movie!'"
She and Maher described the movie as a 12-day-long party and reunion with some of their former Whedonverse cast members. Both expressed their undying loyalty to Whedon, and said they were ready to jump to do whatever he asked of them. Maher had a commitment to "The Playboy Club" at the time, though the show has since been canceled, but called up his manager to move around his filming dates so he'd be able to participate in "Much Ado" as Don John.
"I had an email from Joss, telling me that he was putting together a cast for Much Ado About Nothing, and he wanted me to come play Don John. He said, 'I need a sexy villain, what sayeth you?'" Maher recalled. "I initially was terrified because I've never done Shakespeare, and Shakespeare with Joss — I always want to do right by him because I love him so much. So I told him, I'm absolutely on board, let me just make sure I can clear the dates."
Whedon said he had some trouble figuring out the angle he was going to take on the project, but once he did it was all smooth sailing.
"I realized that everybody in it behaves like such a dolt — an articulate dolt, but a dolt," he explained. "I fixated on this notion that our ideas of romantic love are created for us by the society around us, and then escape from that is grown-up love, is marriage, is mature love, to escape the ideals of love that we're supposed to follow. So that clicked for me when I realized, oh, I get why it matters everybody goes through the weird machinations we go through."
Are you looking forward to Whedon's take on Shakespeare's classic comedy? Tell us in the comments section below or on Facebook and Twitter.