Watch John Hawkes perform the haunting melody "Marcy's Song" from "Martha Marcy May Marlene"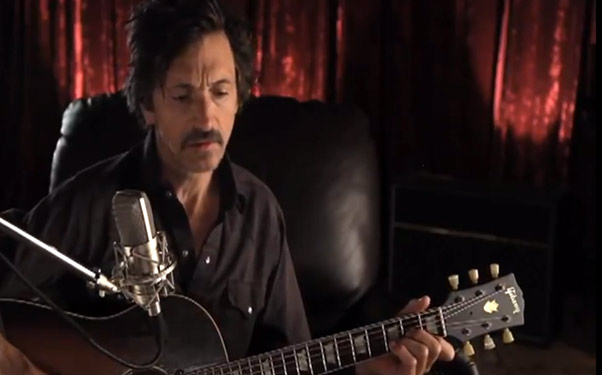 Posted by Brian Jacks on
"Martha Marcy May Marlene," about a teenager named Martha (Elizabeth Olsen) who escapes a cult and helplessly tries to integrate herself back into normal society, is easily one of the most powerful films of the year and a breakthrough performance for its young star. But it's the dangerous intensity of the group's leader Patrick (John Hawkes), that drives the film nearly as much as anything else.
One particularly key scene from the film takes place in a barn, where the group's members are seated around Patrick. Eying Marcy May (as he renamed Martha), Patrick begins to play a song dedicated to his new "favorite," and it's in that moment that a switch is triggered in the mind of Elizabeth Olsen's character where she not only accepts her situation, but embraces it. In other words, the brainwashing is complete.
"Marcy's Song" — originally recorded in the 60s by folk singer Jackson C. Frank — is beautifully performed by Hawkes, and its calming lyrics and haunting melody belies its true malicious intent. It's a stand-out moment and one that sticks in your head, as it did mine, to the point that as soon as I returned home from a screening, I e-mailed Fox Searchlight begging for an mp3. Well now the studio has uploaded a video of Hawkes performing the love song, allowing you to close your eyes and enter its mysterious world. "Martha Marcy May Marlene" is currently in theaters and is highly recommended.
Leave your own impressions of the song in the comments below, or on Facebook or Twitter.