"The Raven" trailer features plenty of John Cusack, Poe and blood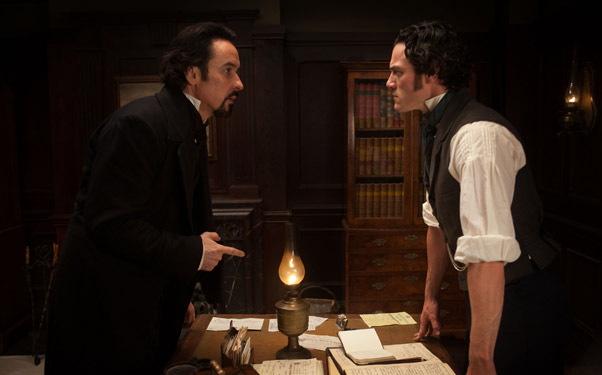 Posted by Terri Schwartz on
John Cusack is ready to send you all to hell. The long-anticipated trailer for James McTeigue's "The Raven" has hit the web today and looks to be a healthy combination of horror, murder mystery and action. Basically, if someone took parts of "Sherlock Holmes," "Se7en" and ABC's "Castle" and threw them in a blender, this is the tasty concoction that would come out.
For the uninitiated, Cusack plays a fictionalized version of Edgar Allen Poe who finds himself at the center of a controversy when a serial killer starts emulating the murders he depicts in his stories. He must team up with a young detective from Baltimore, played by Luke Evans, to try to stop the murderous string of kills. It ends up becoming a dangerous and bloody game of cat and mouse.
Only one image of the film had been released up until now, though "The Raven" did have a Comic-Con panel as well. It is the third directorial effort of James McTeigue, who also helmed "V for Vendetta" and "Ninja Assassin." If you look closely enough in the trailer, there's one particular scene that looks like it comes right out of "V."
Also starring Alice Eve, Brendan Gleeson and Oliver Jackson-Cohen, "The Raven" hits theaters on March 9. That gives it a few short weeks to make a name for itself before "The Hunger Games," another gritty drama with a different target audience, hits theaters and likely goes on to make bucket loads of money. "The Raven" is occupying the same opening weekend that "Alice in Wonderland" and "Watchmen" had in the past, though, so hopefully that bodes well for it.
Are you looking forward to seeing "The Raven"? What did you think of this trailer? Tell us in the comments section below or on Facebook and Twitter.