John Carpenter explains why his "Asylum" comic book is an "irresistible" project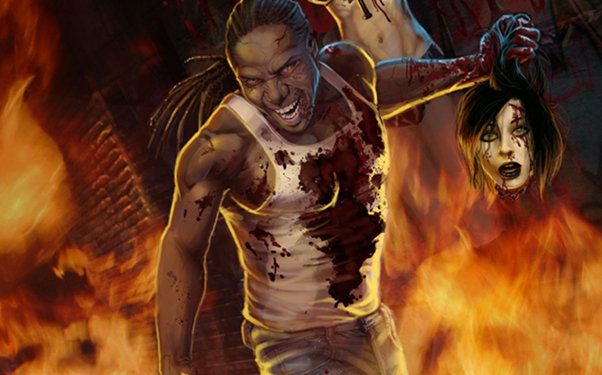 Posted by Rick Marshall on
When it comes to the Halloween season, there are few directors whose films get more mileage than John Carpenter.
So, how is the filmmaker responsible for horror classics like "Halloween," "Christine," and "The Thing" celebrating the holiday this year? By attending this weekend's Long Beach Comic and Horror Con and showing off his latest tale of terror, apparently.
IFC caught up with the director ahead of his appearance at this weekend's show to get more info on John Carpenter's Asylum, the upcoming comic book series he helped create with his wife, Sandy King, and actor Thomas Ian Griffith. (You can check out a teaser for the book at digital publishing site Graphicly.)
"It's essentially a horror comic about a conflict that involves the most powerful evil of all, and a plan to open a portal in Los Angeles that would be the beginning of the end for mankind," said Carpenter of the series. "The stakes are big, but I love shit like that. I've loved that type of stuff since I was a kid. It's irresistible to me."
Announced earlier this year, Asylum will be scripted by veteran comics writer Bruce Jones, with interior art by Jason Craig. Carpenter will be in attendance at Long Beach Comic and Horror Con this Saturday (October 29) to sign a special preview issue of the book alongside King and Griffith.
And even though the book is making its debut at a comic convention, Carpenter warns that the project isn't your typical capes-and-tights story.
"The characters are conflicted. They're certainly not superheroes," he explained.
Carpenter also made it clear that this isn't just some project he lends his name to, either. While he's well aware that the comics industry is relatively new ground for him, he's confident that he's learning from some of the best — and enjoying the fact that he's a student of the medium.
"I'm definitely involved in this, but I've never ever done [a comic] before, and I'm not writing the script," he told IFC. "Bruce Jones is writing the script, because he's a comic book writer. I'm learning a lot about it, though. Some of the techniques are similar to screenwriting, but some of them aren't — some of them are very new to me. But I'm following it from script to finished page."
"I'm kind of being carried through this," he continued. "And I'm putting that in the best possible terms. My wife is acting as the editor of this comic book, and I'm still learning. I know about directing, but I don't know anything about comics. I'm kind of a babe in the woods here."
However, Carpenter considers this foray into the comics world a return to a medium he grew up with, and one that helped shape his future career.
"Of course I read comics," he laughed. "I read the first issue of MAD Magazine ever. I was a big fan of EC Comics, maybe more so than any other comics. I loved those things. I went through the Marvel period and their coming of age and growth, too. I stopped for a while, but I appreciate Sin City and a lot of the new comics, like The Dark Knight and such. I've been a comic fan since before you were born."
So, why is he only getting into the comics scene now? The time was just right, the filmmaker explained, and there's nothing more to it.
"It just seemed like a good time," he said, simply. "I know that the world of comic books is changing a great deal. I know that a lot of the comic book stores have been closing, and these are hard times, but there have been hard times in the past, too."
In fact, in speaking about the project, Carpenter's enthusiasm seemed to call back to those aforementioned younger days reading EC Comics.
"What can I say?" he laughed. "There's just a lot of great shit that goes on in this book and I'm really excited about it!"
Carpenter and his Asylum co-creators will be signing preview copies of the book this Saturday (October 29) at the Storm King Productions booth (#913) inside Long Beach Comic and Horror Con. You can find out more information about his appearance at LBCC at the show's official website: www.longbeachcomiccon.com.
What do you think of Carpenter's take on comics and "Asylum" plans? Chime in below or on Facebook or Twitter.