Jasper Redd talks about "Seinfeldian" influences, Southern styling and staying true to stand-up comedy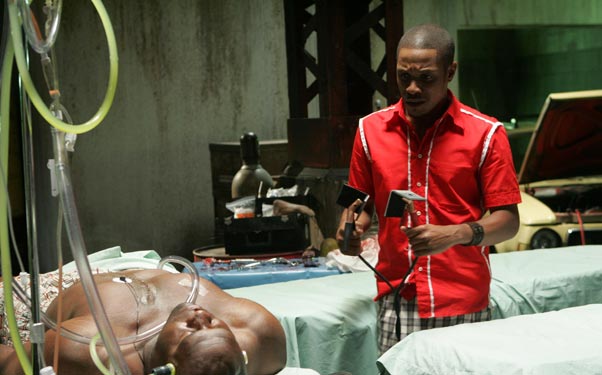 Posted by IFC on
Comedian Jasper Redd is an intriguing mass of contradictions. If he had his druthers, his entire routine would be all about race, but he counts Jerry Seinfeld's trivial observations as a major influence. Even though he's often dressed up in Western attire to celebrate his Tennessee heritage, he's as savvy about the vagaries of Hollywood as any longtime Los Angeleno. And even though he's being doing comedy for almost a decade professionally, he admits that it's only recently that he's felt confident about being a stand-up.
We were lucky enough to see Redd for the first time a few years ago when he performed in Los Angeles to commemorate the release of "Frankenhood," a straight-to-DVD movie that was his first – and as of today, last – acting job. Since then, he's been traveling across the country to various venues, including college campuses, and bringing with him a comedic style that's equally contradictory: complex and plain-spoken, incisive and frivolous, his routines have an abstraction, and an absurdity, that make him a singular entity in the current comedy landscape. IFC sat down with Redd last weekend in Los Angeles to talk about how he got started as a comedian; additionally, he discussed his influences and inspirations, and offered a few insights about satisfying audiences while still staying true to himself.
How did you first get into stand-up? Were you always a funny kid?
I can't say that I was a kid who was always funny, but I always liked comedy, and I liked funny people. So that was always my attraction. I always liked funny shows, funny movies, and hung around funny people. So I couldn't say I was ever a class clown, but I had funny thoughts, and I didn't express them until I got older. I didn't really have an urge to perform growing up; I grew up drawing and whatnot – that's what I was into. And then I got into music when I got into high school, but when I graduated, I kind of lost that spark for the music. And then comedy was just something I thought about doing, just to try it, and since I had nothing to lose – I was a janitor at the time, and I was like 20 years old – I just started writing down my thoughts, and I would later form them into jokes when I got off work. And in Tennessee where I lived, Knoxville, they didn't have a comedy scene at the time, until around the year 2000, and I was wanting to get up somewhere but I had no venue. So that really set me back for a minute, but I kept writing my jokes, and I finally got the guts to do it in 2002, and I decided to move to San Francisco to give it a shot. When I started there in 2002, I started doing open mics, and how it is in San Francisco, it's kind of like open mics kind of tie in with the club, so they'll showcase you if you live up to the word on the street – they'll put you in the rotation.
What comedians do you like or are you influenced by?
I was influenced by, you know, Seinfeld, and somewhat George Carlin, but I love a lot of comedians. As I studied and continue to study, I love a lot of people. Because when I first started doing comedy, my favorite comedian as a kid was Sinbad and Robin Harris. And then as I got older and I started doing comedy, I got into Richard Pryor, I got into Paul Mooney, I got into Steven Wright, Rodney Dangerfield. So I like a lot of cats, man – Bill Cosby – and I studied the legends. And then as far as the modern day [comedians], I love Patrice O'Neal, Mitch Hedberg, rest in peace, Daniel Tosh, Arj Barker, Patton Oswalt, Dwayne Kennedy.
What was the process of teaching yourself how to write jokes and refine your performance?
I was very influenced by Jerry Seinfeld and his comedy, and how he looked at things. He had a keen eye for trivial things, but it was always clever. And I wanted to emulate that, so when I got the chance, I got the book "Sein Language," which is a book of his jokes, and that really helped me because I could see his joke structure – I could see his formula. And it's kind of like, from there I was like, "I can do this." I kind of used his book as a manual, so around the time I was living in Tennessee, that's how I would write my jokes: I would put them side-to-side with his. And that was pretty much how I got influenced.
How long did it take you to formalize it, or to be able to do that naturally without using his material as a structural blueprint?
I really don't feel confident that I got it down until about now; I've been doing it for nine years, and now I feel comfortable in the formula. I know how to make something funny – I believe. I feel 90 percent confident. But when I first started, my jokes would be hella long; they would be like essays, man. The punch line would be on the third page, you know what I mean? So I had to learn how to edit, to cut off the fat, so that's how his book was so helpful; it helped me learn how to edit, to leave the necessary meat on the bones.
A lot of your comedy has a sense of abstraction to it. Is it difficult to know how much meat to leave on the bone, as you put it?
Yeah, man, I love the abstract. I love the absurd. I always try to bring that to my comedy, even though I may not be like that in person. I may not be all animated and stuff, but in my mind, I'm very animated, so when I get on stage, it's kind of like I'm just trying to play with my toys that are in my head. But being that I'm Southern, and kind of slow, and kind of slow with delivery, that makes me stand out. And it's not deliberate, that's just how it is. So it's just how it comes out.
In some of your older clips, you're wearing a cowboy hat and jacket.
Yeah, that was a phase [laughs].
How much do you feel compelled to play up, or play down, your Southern heritage?
Being a performer, I kind of play with my appearance sometimes, just to get reactions on that from sometimes. I'll try to get a laugh without even saying anything. So I'll do that with the outfit sometimes, and around that time I was doing the cowboy thing – I called it "space cowboy." That's what I was going with at the time. So yeah, I'm into I guess a little bit of theatrics, as far as appearance is concerned; I'll dress up.
It is tough to balance being yourself and adopting a stage persona, if that's something you need to help you get up there and perform?
Uh, for me I just love new stuff. I'm always into new things. I try to be as prolific as I can, because that's my nature, to try something new. That's always my motivation, and hoping it's funny (laughs).
Are you totally yourself on stage, though?
Yeah, to an extent. It's like the persona is you, but it's like the funny you. So you just amplify that on stage, in stand-up form. So it's me, with everything coming out of my mouth, my antics, it's all a production of Jasper Redd. So it is me.
Do you draw a line between that "funny" version of you and the "off-stage" you? Do you turn it on and off?
I guess so. People will say I have a dual personality, because when I'm not on stage, I'm pretty reserved, low-key, and mild-mannered, and on stage it is me turning it up a notch. Like I said, it's me playing with my toys, which is my thoughts and observations. So there is definitely an "exit" and then there's an "enter."
As a comedian of color, where do you draw the line between addressing or talking about race, and just doing sort of colorblind material?
You know, I would probably talk about race in my act 100 percent if I could, because it's so prevalent in my life – especially in Hollywood, where you see how it affects your opportunities. So it's very prevalent, but I know that people don't want to hear that all of the time; in fact, I think people are really getting past that as a generation. I think it's an old issue in some ways, so in order to stay relevant, people don't want to hear about it no more, so I try to bring different twists or spins to it if I do talk about it. I approach it in an absurd or funny way. So when I do talk about race, I try to talk about it in a lighthearted way, man, and not try to be a downer. But I talk about other things as well – like why firemen don't carry water guns and stuff like that (laughs). Those are my type of observations, so I try to do both – and just be silly with all of it.
Was there a specific barometer for success you achieved that gave you the confidence that you say you now feel?
I think it's just after doing something for a while, you get the hang of who you are as a person, and how you work and how you do your thing. You've got your whole body of work, like how I have a body of work after nine years, and I can go back and look at it and say, okay, this is how I operate. These are the things that I talk about. These are the things that I'm drawn to as a comedian. So once I know what my lane is, it's easier for me to drive in it, you know what I'm saying? I know how to do what I do now; I know how to play my tune.
As you've been doing this more and more, do you tend to draw in a certain demographic or specific type of audience?
It's a mix. Especially with having a Facebook page and a Twitter account, you see what people are coming to you because of your comedy, and it's always a mix. I can't say I have a specific type of audience; I get old folks, kids in high school, females, it's all over the board. And I appreciate them all.
Are you interested in transitioning from stand-up into doing a TV show or being in movies?
I'm not really attracted to doing all of that stuff. I've tried it, I've tried to swim in those waters, and I ain't really got the build for it – I don't really like it. When I got into comedy, it was for comedy; it wasn't for any other aspirations. But when you're in show business and you have agents and you have managers representing you, they've got goals of their own for you. So I try to appease them somewhat and go on an audition every now and then to let them know that I appreciate their support, but at one point I just had to stop living a lie. And I'm glad my agents and managers are cool with it; at least, I think they're cool with it. But I never was into the acting, or trying to write for a show or produce something. If it ain't got nothing to do with stand-up, I'm pretty much not with it.
What's the toughest part of doing stand-up? Is it creating new material?
Yeah, that's it for me. It's like being a musician, man, like after you write that one hit, people want that other one. So it's about writing new material and not getting trapped into doing your old material and becoming complacent. Because you can easily just fall in love with your jokes, and never challenge yourself to do new stuff. So yeah, it's a hard thing to balance, because you also want to get paid as a comedian, and you can always do jokes on an audience that's paying to see you, and like I said, it's like being a musician – they want to hear the hits! Do your songs on your next tour. So it's a balance, man, a balance of breaking new material, trying it out, building confidence with it.
What's coming up for you? What are you working on now?
Man, good question. Business is in slow motion. Actually, it's kind of good, because I was on tour last year a lot at colleges, and that's pretty much my bread and butter when it comes to doing gigs now. So I'm hoping to get some more college gigs on the calendar for the next year, and at the end of this year, hopefully. But that's about it. I've got a web series on Youtube called Jazz Talk, that I do, which is me doing jokes with jazz music in the background. I do a lot of new material actually through Jazz Talk, so if people want to hear jokes, that what I'm doing. I've done 57 installments, so that's what I'm up to; I'm trying to have more of a presence on the internet, because that's the future. Or, the future is here (laughs).
What's your favorite Jasper Redd stand-up? Tell us in the comments below or on Facebook or Twitter.