The Miami Heatification of the Action Genre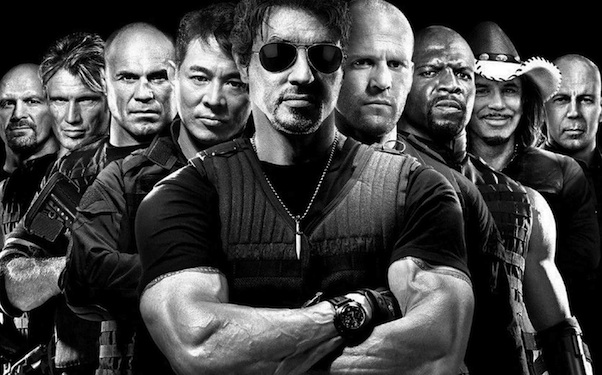 Posted by Matt Singer on
According to Todd Brown over at Twitch the franchise formerly known as "The Fast and the Furious" is not content to rest on its laurels. Having every actor who'd appeared in the franchise return for "Fast Five" and now for "Fast Six" and "Fast Seven" wasn't enough. Brown reports that Universal's "entering into preliminary conversations with Jason Statham to explore the possibility of the action star joining one or both films."
Think about this for a moment. They might not all reappear in "Fast Six," but "Fast Five" already featured Vin Diesel, Tyrese Gibson, Chris "Ludacris" Bridges, Dwayne "The Rock" Johnson, and Paul "I Don't Have a Nickname" Walker. That's already a bounty of beefcake. Now you're going to cram Jason Statham in there as well? Don't get me wrong — I'm an irrationally big fan of Jason Statham. But how are you going to divvy up all the screentime for these guys? They're going to have to ditch the characters and call each other by their real names to save time on exposition.
It is interesting that Statham is the guy they're targeting to boost "Fast Six"'s all-star cast since he's already a part of the other current all-star cast in action movies, "The Expendables." That Sylvester Stallone jam featured Statham alongside Jet Li, Dolph Lundgren, Terry Crews, Steve Austin, Randy Couture, and more. "Expendables 2" is just getting underway with most of the original cast, plus Jean-Claude Van Damme, plus Chuck Norris, plus Arnold Schwarzenegger and Bruce Willis expanding their cameos from the first movie into bigger supporting roles.
It's also interesting that "The Expendables" premiered last summer on August 13, just over a month after LeBron James announced on a primetime television special that he was taking his talents to South Beach and joining up with fellow superstars Dwayne Wade and Chris Bosh on the Miami Heat. All three guys formerly anchored their own teams; now all three would play together. Forecasters predicted short-term doom: the team couldn't afford decent role players to fill out its roster and its bench was thin. Surely former alpha dogs like James and Wade couldn't figure out how to coexist. Early season troubles seemed to validate those theories, but they figured it out well enough to make the NBA Finals in just their first year together. If the NBA can solve its lockout, other teams are going to have a lot of trouble solving the Miami Heat for years to come.
The timing is coincidental but curious. Between "The Expendables" and "Fast" franchises, are we seeing the Miami Heatification of action movies? It doesn't seem like it's enough for an action film to feature one studly actor these days — it's got to feature all the studly actors in Hollywood. Even Statham's last solo project, "Killer Elite," brought in two other headliners, Clive Owen and Robert De Niro, to play his wingmen. If the goal is to make a movie to appeal to the widest possible audience, then the strategy makes perfect sense. By tripling your star power, the thinking goes, you triple your potential audience. But where do you draw the line? Will the veritable arms race between the "Expendables" and "Fast" series heat up until they join together into one mega-movie? Will we be talking about "The Fast and the Expendable" starring Stallone, Diesel, Statham, Walker, Schwarzenegger, Willis, Van Damme, and the ghost of Lee Marvin in 2015?
I don't know. I do know that this looks more and more like a cinematic trend. A spirit of competition has been replaced by a spirit of merger and acquisition. You could argue "bigger is better" is one of Hollywood's default ideas, and it kind of is. But this is something different. It's hard to imagine Magic Johnson and Larry Bird playing together back in the day, and it's equally hard to imagine Schwarzenegger and Stallone making a movie together back in the day. They were so obsessed with determining who was the biggest movie star they would have never joined forces (except to own Planet Hollywood, and we know how that turned out). Now, whether it's because of their own mortality or the economics of securing increasingly elusive funding from the international market, they're teaming up. Action movies are just the tip of the iceberg, too: check out the new wave of star-studded romantic comedies. Last year we had "Valentine's Day" with Julia Roberts, Bradley Cooper, Jennifer Garner, Ashton Kutcher, Jessica Alba, Jamie Foxx, Anne Hathaway, Taylor Lautner, and many more; this year you can look forward to "New Year's Eve" with Katherine Heigl, Michelle Pfeiffer, Jessica Biel, Halle Berry, and Hilary Swank.
Magic and Bird did play together at one point: on the Dream Team. And what did the Dream team do at the Olympics? Conquer the entire basketball world. There wasn't a ton of drama in their games, but sometimes a guaranteed win can be fun to watch (as long as you're rooting for the winning team, of course). There's a similar philosophy behind these new action franchises: if we all work together, this is a guaranteed win. And a sure thing is always better than a risk, in sports or in movies.
Do you think action movie casts are just going to get bigger and bigger? Tell us in the comments below or on Facebook and Twitter.