Jason Reitman staging a "Breakfast Club" reading in L.A.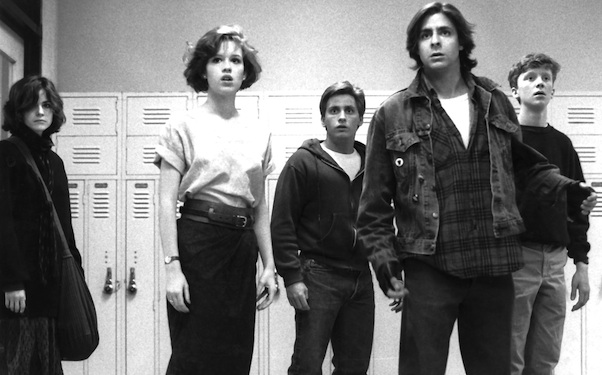 Posted by Matt Singer on
The Los Angeles County Museum of Art is inaugurating a clever new series called "Film Independent at LACMA" curated by Elvis Mitchell, in which a bunch of actors reenact a famous screenplay on the stage, with a really interesting first performance: John Hughes' classic script for "The Breakfast Club" spearheaded by director Jason Reitman. He's put together a very cool (if age-inappropriate) cast. According to The Hollywood Reporter and Reitman's Twitter feed, they include Reitman alums Jennifer Garner (in Molly Ringwald's role), Patton Oswalt (Anthony Michael Hall) and J.K. Simmons (as Carl the janitor), plus James Van Der Beek as Emilio Estevez's Andy, Mindy Kaling as Ally Sheedy's Allison, and "Breaking Bad"'s Aaron Paul as Judd Nelson's Bender.
The fact that the actors are all my age or older will certainly lend the reading an interesting feel: I suspect they've all got deep personal connections with the material dating back to their own teenage years. That should make things really fun. It's also really fun to try recast the film with contemporary teenagerish actors too, as long as that fun remains hypothetical and such a remake is never actually undertaken. Just off the top of my head, how about Jennifer Lawrence in the Ringwald part, Elle Fanning in Sheedy's, Freddie Highmore in Hall's, Josh Hutcherson in Estevez's, and — God, I don't know — Aaron Johnson in Nelson's. Who would you pick?
The event is tomorrow night at the Bing Theater and it is, not surprisingly, sold out. LACMA's website says there will be a stand-by line forming at 6pm the night of performance, though, so you can give that a try if you're in the area. If I was in LA tomorrow that's where I'd be. Oh and the #1 screenplay I'd love to see done at a live reading? How about "All the President's Men" staged by David Simon? That would be amazing.
Who would YOU cast in a modern version of "The Breakfast Club?" Tell us in the comments below or on Facebook and Twitter.