iPhone 4S and iOS5 debut at Apple's "Let's Talk iPhone" Event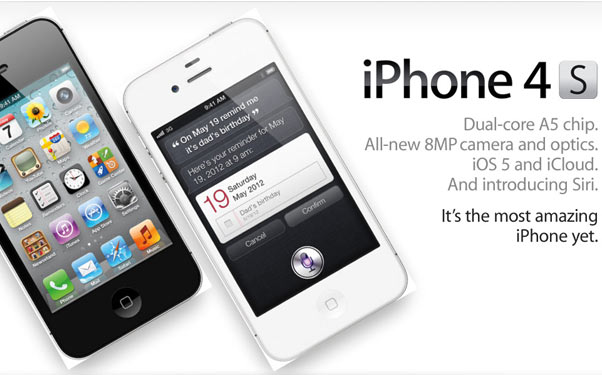 Posted by Aubrey Sitterson on
For almost three hours today, the entire internet ground to a screeching halt as Apple put on its "Let's Talk iPhone" event – the first one hosted by new CEO Tim Cook. But since your boss probably wasn't too thrilled with the idea of you taking a few hours away from your spreadsheets to monitor tech site live blogs, we figured we'd go ahead and round up all the interesting bits. Why? Because we like you.
First up is the new iOS 5 for your iPhone, iPad and iPod Touch. It features more than 200 new features – way too many to run down here – but below are some of the highlights:
• The Notifications Center, which is a less grating and obtrusive way for Apps to yell at you than the traditional pop-up notifications. You'll be able to open it up with a downward swipe.
• iMessage is basically Blackberry Messenger for iDevices, allowing you to send text, photos and videos to other iUsers. Apparently, the only thing that makes this difference from a regular text is that messages get pushed to all of a user's devices, which sounds well more irritating than pop-up notifications.
• Reminders sounds more or less like an appointment entry in Calendar, which isn't tied to a specific time. Instead, you can tether reminders to locations so your device tells you to do stop by the bank when you're nearby.
• Twitter will now be completely integrated into your device, meaning no re-logins and the ability to Tweet from most of your standard Apps. Interesting, but seems like it might be irritating for people who share an iPad.
• There are several upgrades to Safari, including the Reader, which can save stories and pages to read later, which are then synced across device. Most exciting to us, however, is the introduction of tabbed browsing on the iPad.
After going over the new iOS features, the focus moved to hardware, with new versions of the iPod Nano available today in seven colors and two different versions: 8 GB for $129 and 16 GB for $149. The new devices are said to include improved functionality for Fitness, as well as 16 additional clockfaces for people who wear the player as a watch.
Apple's most popular iPod, however, is the iPod Touch, and with the new iOS 5, it will also experience a price drop. The new iPod Touches will be available on October 12, in 8 GB ($199), 32 GB ($299) and 64 GB ($399) versions.
Of course, what everyone was waiting for was news about a new iPhone. While rumors had swirled around about a massive upgrade in the form of an iPhone 5, Apple is only taking what amounts to a half-step forward, introducing the iPhone 4S. The new device looks exactly like the pre-existing iPhone 4, but has completely new innards which makes it up to seven times as fast as the previous version. Here are some other highlights of the new iPhone:
• The phone has an Apple-designed A5 processor, which allows it to run monstrous Apps, like the all-new "Infinity Blade II," which will hit the App Store on December 1 of this year.
• The device has two internal antennas, which the system will switch between during calls and regular use to get the best speeds, achieving 4G levels of performance.
• The iPhone's camera is also experiencing massive upgrades, with 60% more pixels a five element lens (compared to four in the previous version) and more, which results in a 30% sharper image. Just as importantly, the device is also 33% faster at taking pictures than the iPhone 4.
• Video recording is also getting a shot in the arm, as the device can film 1080p HD footage.
By far the biggest news out of the "Let's Talk iPhone" event, however, was the introduction of Siri, a digital assistant hardwired into the iPhone 4S. To summon Siri, users will hold down the home button, and can then ask the digital assistant to do pretty much anything the phone can do: Tell me the weather, play a particular song, set a new calendar entry, etc. Siri can even read your text messages, recite information it found on the internet and just generally make you feel kind of stupid – so basically Siri is like a new annoying girlfriend who you don't even get to ogle.
The new iPhone 4S will be available on October 14, with pre-orders beginning this Friday. With a two-year contract, you'll be able to get a 16 GB for $199, a 32 GB for $299 or a 64 GB for $399. If you're bargain shopping, however, you'll soon be able to get an iPhone 4 for $99 with a two-year contract, or even pick up the somewhat dated iPhone 3GS for free with a new two-year contract.
What do you think of the iPhone 4S's new features? Will you be ordering one this week? Tell us in the comments below or on Facebook or Twitter.