"The Human Centipede II" crew spill their guts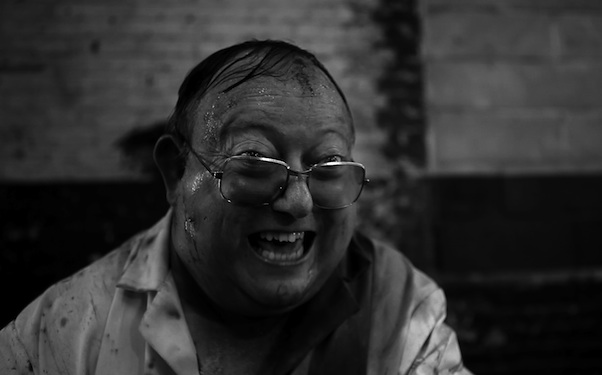 Posted by Matt Singer on
You see this movie, "The Human Centipede II (Full Sequence)," and it's full of the most repulsive acts imaginable. Graphic images of surgery, prologued sequences of torture, and, of course, plenty of shots of the human centipede itself, a stomach-churning beast made of a dozen people sewn together, ass-to-mouth. Then you meet the people who made this movie, stars Laurence R. Harvey and Ashlynn Yennie and writer/director Tom Six, and they are the nicest, friendliest people in the world. They're so un-unsettling, it's kind of unsettling. How did people this chipper make a movie this disturbing?
I'm still not sure. Maybe when you're making a movie about forced poop eating and unanesthetized surgery, you need to have a sense of humor about your work. Harvey, Yennie, and Six certainly do. They don't take "The Human Centipede" too seriously, which is ironic since the film's new sequel is about a man, played by Harvey, who takes the first "Centipede" waaaaay too seriously. His name is Martin, a deranged mute Englishman who spends every waking hour watching and thinking about "The Human Centipede." Decades of physical and sexual abuse have driven him mad, and now Martin, brutal satire of movie fanboy that he is, wants to possess and even improve the pop culture object he loves. So he sets out kidnapping people from the parking garage where he works to make his own centipede. He even cons "Centipede" star Yennie (playing herself) to come to the UK to star in his "film." Cue the degradation, filth, and, surprisingly, the comedy.
Maybe I need almost as much counseling as Martin, but I did laugh at "Human Centipede II," and I laughed more during my conversation with Harvey, Yennie, and Six just hours after their world premiere at Fantastic Fest. What follows is definitely the most lively and spirited conversation about cinematic fecal consumption I've ever had. Along the way, I asked Six about the humor, intentional or otherwise, in his film, and I asked his stars about whether it can be fun performing such inhuman acts onscreen. And as promised in my report from the "Human Centipede II" premiere, I had my first question locked and loaded well in advance.
Matt Singer: I'll start with the question I'm sure you hear the most Tom: what the hell is wrong with you?
Tom Six: Well, I'm the victim of a very happy childhood. I'm a sheep in wolf's clothes. I couldn't hurt a mouse in real life but I just have this really bizarre imagination.
How did you think the premiere went?
TS: Everyone was numb when they came out.
Is that what you want? How do you want people to react to the film?
TS: Exactly like that. Absolutely. If everybody comes out smiling and saying "It's great!" then it didn't work. I want this strange silence.
Ashlynn Yennie: It was quiet with just a few claps. That's a very cool thing for us. We're all like "You did it! You made them so uncomfortable!"
TS: Absolutely.
AY: Because so many people had said "The first one didn't show enough; I wish we had seen more." I told Tom, "I don't think people realized what they were asking for."
That is true; I definitely heard that about the first movie.
AY: Yeah and then Tom's like "Do you really want to see what it looks like?"
TS: Here it is!
When you were touring with the first film, did you meet any fans that really disturbed you and provided the inspiration for Martin?
TS: No, all the fans I meet at festivals have big tattoos and look very aggressive but they're the sweetest and most humble people on the planet. If a guy approaches you, you might think he's going to hit you, but then he says "Oh my God, I'm such a fan of you." Yesterday a guy said I was his Jesus.
That's quite a compliment.
TS: Incredible.
But in terms of the character, what sort of comment were you trying to make about fandom? It's hard not to read Martin as a critique of a certain kind of movie nerd.
TS: This was the thing that people at festivals all over the world wanted to know: what if a maniac out there copies the idea from "The Human Centipede?" And I thought that was the most terrifying idea for a sequel. If I would have used another surgeon like Dr. Heiter and just made a copy of the first film, that wouldn't have worked. This is much scarier, I think.
Laurence R. Harvey: Martin's a tabloid archetype, rather than a portrait of horror fandom itself.
Laurence, were you a fan of the first film?
LH: Yeah, when I saw it. I agreed to come to the audition before I'd seen it. I'd wanted to see it after I heard about it at [London horror film festival] FrightFest. I thought "Well I'll go to the casting because it'll give me an excuse to see the first film," and I was just blown away by the first one. Then I realized I had big shoes to fill.
In your bio in the press notes, it says you've worked as a "children's television personality." Are you prepared never to work as a children's television personality ever again?
AY: [laughs]
LH: No, no, I'm going to return to children's television as Martin. [laughs]
AY: Oh no!
LH: I mean, you saw how Martin was with the child in the film.
That's true.
TS: He's very sweet, really.
LH: It's just adults he has a problem with.
That's a good point. Ashlynn what were your emotions returning to the series for a second film? Were you nervous because Tom was upping the ante with this one or were you more comfortable because you'd been through it all before?
AY: It was exciting just to get to play this character. All of us have met actresses like this girl who think that just because they've done one film they're big and famous. In reality, I'm still working as hard as I've ever worked getting auditions and meeting directors. It was fun to shed light on the reality of girls who are just like [my character]. Also, I'd had a couple encounters with fans who were a little creepy, a little too involved with me.
Oh, so you've met some of those real world Martins.
AY: Oh yeah, definitely. So there was that very real aspect to it. I told Tom, "This is my worst fear coming true. You realize you're making this really real!" And he's like "I know!" For me, this film hits really close to home.
Was making this one more grueling than the first one? How did the two experiences compare?
AY: The second one felt more like my real life. I had to decompress every night because it was so intense. The more grueling part was the set, going from the beautiful, medical villa that we destroyed in the first one to this very gritty warehouse with ten bodies laying there.
Tom made it so each of us was fighting our own battle in the sequel. In the first one, we become one centipede. In this one, we become a centipede but, y'know, one guy rips his face off —
TS: [laughs]
AY: — and we're still all fighting for ourselves.
I love that you laugh when she says a guy rips his face off.
TS: Well, I have to laugh about it. And the way she says it.
AY: "And then the guy rips his face off!"
This is just my personal reaction, but there were scenes that convinced me you were marking a very dark comedy instead of a horror movie. Some moments reminded me more of Mel Brooks than, say, Dario Argento.
TS: I'm so happy that you say that. We spoke to another reporter who didn't see the humor.
AY: At all.
TS: It's so strange.
Can you talk about why you put humor into this insanely disgusting, disturbing story?
TS: It's just the way I write and think. I never intentionally put humor in it. The humor in "Human Centipede" is exactly the same as in "Part II." Some people see it and some people think it's dead serious. It's from my brain, of course, but it's your own perspective on humor.
When you say it's just the way you think, are these things that come to you in dreams or nightmares? Where did the centipede idea come from in the first place?
TS: I just have a very bizarre imagination. I can combine things and make something horrific out of it. I'm fascinated by the dark side of things.
You didn't wake up one morning after a vivid nightmare and start sketching a picture of people sewn together ass-to-mouth.
TS: No, it's just my biggest fear. Being attached to an ass, that would be horrible. And then having someone behind you, and having to shit in someone's mouth, that's also a big barrier. It's all nightmares.
Laurence, the big challenge for you is Martin doesn't get any dialogue.
LH: Originally Tom told me he doesn't say much, but he imitates Dr. Heiter a bit. When we were acting out certain scenes at the audition, I think I forgot to speak. The next time I saw Tom, he'd erased all the lines.
So Martin did have lines initially?
TS: Yeah. All quotes from Dr. Heiter. But it's much better this way.
AY: When you watch the character evolve on set you realize this is a very quiet man. He doesn't talk a lot in his daily life; he doesn't talk to anybody at his job and no one talks to him.
LH: People talk at him.
AY: At him, but not to him. So it fit him better to portray everything through his actions and his face.
TS: Laurence has such screen presence. You can just put a camera on him and he doesn't have to say anything. So that's why I could pull off the entire film without dialogue. Not many actors could do that; you'd get bored.
I thought there was plenty of comedy in the movie but there are also some moments that are really transgressive as well. Tom, is there anything you write down and discard because it's too intense?
TS: I never censor myself. Everything has to fit in the story, of course, and it must be logical. But to me, nothing goes too far. Because it's all make believe.
Ashlynn, at this point, is there anything Tom could write that would surprise you?
AY: Probably not.
TS: [laughs]
AY: Remember in the first one, I didn't eat poo. And I was really happy about that. Weeks before we started filming, I emailed him and said, "Tom do I really have to do the part where I shit in the other person's mouth?" He said "Don't worry Ashlynn it's going to look great!"
Tom is enthusiastic more than anything. When he tells you an idea, he does it in this way that makes you think, "That sounds so cool!" And then all of sudden you're going "I want to be a part of this!"
LH: It's this kind of infectious little boy charm he has.
TS: If you're a very serious director, and you speak very softly and say "You have to shit in their mouth–"
AY: — then it would be creepy.
TS: And the actors wouldn't do it!
AY: If he said it like that, I wouldn't have done it.
While I was waiting to talk to you guys, I struck up a conversation next door with Ashlynn's boyfriend. That gave me the mental image of you two sitting together at the premiere, watching all this horrible stuff happen to you in the film. Is it weird watching these movies sitting next to him?
AY: When the first one came out, we had just started dating. I remember telling him, "Yeah I'm in this movie, it's kind of crazy…" but I didn't want to talk too much about it because it was our first couple of dates and I didn't want to scare him too much. We actually saw it together in Los Angeles, and I remember him saying afterwards "You are way crazier than I thought you were!"
[laughs]
AY: For "Part II," I didn't tell him what the story was going to be. I didn't want him to know a lot. He was so excited to see it. Last night, he was laughing so loud, partly because I think he was so uncomfortable at times. He didn't know what else to do. For him, he's just proud.
And why shouldn't he be? I was at the screening, and at the Q & A after the film, Tom you talked about "The Human Centipede Part III" and you said that in some way it will create a centipede of movies — it will connect directly to "Part II" which connects directly to "Part I."
TS: Yes, in the third one, you will get a lot of answers. It's going to be a totally different film again. Maybe more gruesome than the second one.
More gruesome than the second one?
TS: It could be, yeah.
And you've already finished the script, you said.
TS: Yep, and we're going to shoot it in America. I'm very happy about that.
Why is that?
TS: I have never shot a film in America, and of course this is the country where all the films that have inspired me came from. This is heaven for a filmmaker.
Is "Part II" still banned in the UK?
TS: The distributor is still fighting the banning, trying to find a way to overturn it. On the one hand, I'm really irritated that they banned it. On the other hand, I'm very happy to be part of a list of eleven films like "The Texas Chainsaw Massacre" that were banned in the UK. We're proud to be amongst those ranks.
Would you be willing to cut parts of the film in order to get it released in England?
TS: Sure. I'd hate to cut it though. It's my film and I want to present it in the way I made it. But if it's necessary, yeah. I want to show it to people.
LH: It's a pity. In America, if a film's cut for theatrical release, there's always an uncut DVD. There should be something like that in the UK. We're kind of behind with our constitutional rights. But, then, we don't have a Constitution.
Laurence, you have to portray out some truly despicable activities in this film. What was the most fun one to play?
LH: Most of them, actually. Everything apart from the rape scene.
Knocking people's teeth out is fun?
LH: That's all fun, yeah.
TS: Even the shitting scene was so much fun.
AY: The shitting scene was so funny.
"The Human Centipede II" opens this Friday in theaters and will be available through video on demand on October 12. If you see it, we want to know what you think. Tell us in the comments below, or on Facebook and Twitter.