Thoughts on "Hugo"'s work-in-progress screening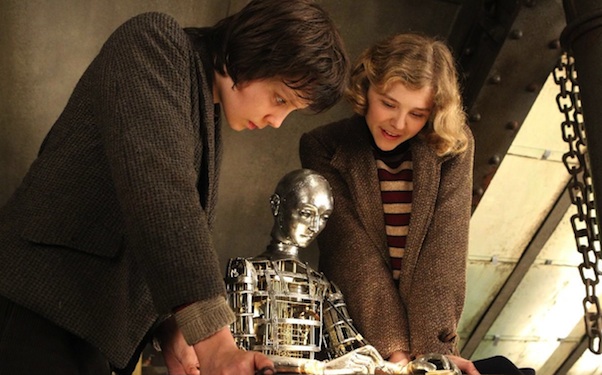 Posted by Matt Singer on
The surprise work-in-progress screening at The New York Film Festival turned out to be Martin Scorsese's "Hugo," and the director himself was on hand to present his almost completed 3D family film. As Scorsese explained before the movie, "Hugo" really is a work-in-progress: a few CGI shots were unfinished and a few green screens were visible. The color correction wasn't done, and the score by Howard Shore wasn't complete either. Shown in this state, a review of the film would be inappropriate. But I think it's fair to present a few random thoughts on "Hugo" as it stands now, starting with this one:
-I liked the film a lot. I'm not sure how my appreciation will translate to a wider audience — and some of my colleagues sounded much more mixed than I was after the screening — but I was very satisfied.
–The film's schmaltzy trailer may have left some die-hard Marty fans scratching their heads why Mr. "Mean Streets" would make a heartwarming family film, but "Hugo" is actually the Scorsesiest Scorsese movie in years. Only it's not the kind of Scorsese movie you're thinking of.
-Speaking of that trailer: if the trailer for "Drive" was so misleading that it garnered a lawsuit, then the trailer for "Hugo" might get dragged before an international criminal tribunal. It paints a very incomplete portrait of the movie, of what it's about and even who it's about.
-Don't bust out the pitchforks and storm Paramount's marketing department just yet. Once you see the movie, it will be easy to see why the trailer was so cagey. "Hugo" is a tough movie to sell — or write about — without spoiling things. In this case, I really believe they had the viewers' best interest at heart (or heart-shaped keyhole).
-The plot, sans spoilers: Hugo Cabret (Asa Butterfield) is an orphan living in a Paris train station during the 1920s. After his father dies (Jude Law, in a brief role), his uncle (Ray Winstone, even more briefly) adopts him and puts him to work minding, winding, and repairing the station's enormous clocktower. While Hugo keeps the clocks running, he also searches for — and occasionally steals — tools and parts for the one thing his father left him: a broken automaton that could deliver an important message. But stealing the parts he needs puts him directly in the crosshairs of the station's cruel inspector (Sacha Baron Cohen) and the bitter owner of its trinket and toy store (Ben Kinglsey).
-"Hugo" is one of those movies set in France where everyone speaks with a British accent.
-The trailer hints at the role magic plays in the film, but it goes much deeper than that. "Hugo" is movie as magic trick. Scorsese convinces us he's made one film, then uses some crafty sleight-of-hand to transform "Hugo" before our eyes.
-Does Scorsese single-handedly save the medium of 3D? No. Does he prove reports of 3D's death may have been greatly exaggerated? Absolutely. "Hugo"'s 3D inarguably enhances the experience of watching the film, and Scorsese clearly put a lot of thought into its execution. He essentially upends the classical model of 3D cinematography, in which objects in the frame constantly move towards the lens. Scorsese does the opposite; he constantly moves the lens towards the objects in the frame, playing as much with our perception of movement as our perception of depth. He also uses steam, dust, and falling snow to deftly create a sense of true three dimensional space and he playfully tours through the Parisian train station during a couple of signature long takes (imagine the Copa shot from "Goodfellas" with a 3D CGI assist).
-Between "Hugo" and "Midnight in Paris," 2011's been a good year for New York filmmakers in the City of Light.
-I often watch movies and wonder: where is the director in this material? In "Hugo," there's no need to wonder. There is even a character that I believe stands in for Scorsese himself. He is played by Michael Stuhlbarg.
-"Hugo" is a fine title for the film, but the name of a previous Scorsese project might have made an even more appropriate one. I'm referring to this — but know that by clicking that link you're approaching the door that opens up all the spoilers I've been trying to hold back. Walk through it at your own risk.
"Hugo" opens November 23. Are you looking forward to it? Tell us in the comments below or on Facebook and Twitter.