New "Man of Steel" set photos show Henry Cavill in rescue mode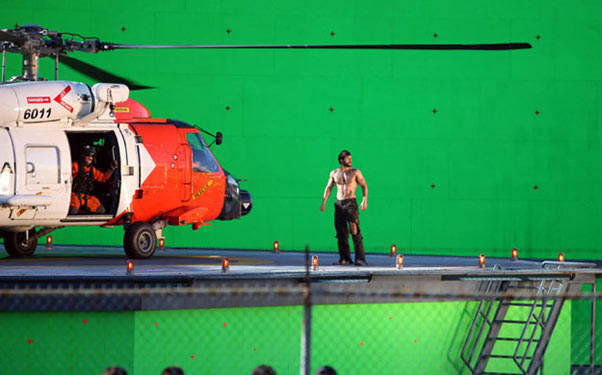 Posted by Terri Schwartz on
Superman apparently does not like to keep his shirt on. The latest batch of photos from the "Man of Steel" set in Vancouver Island show leading man Henry Cavill sporting an outfit similar to the one he wore when we last saw him earlier this month. He was caught filming a rescue scene in front of a green screen by paparazzi yesterday.
Judging by the fact that Cavill's pants are only partially torn in these photos and haven't yet been transformed into the cutoffs we saw in the earlier set pics, it can be deduced that this rescue sequence takes place before the titular Man of Steel goes salmon fishing in Alaska or whatever he was doing in the pictures from earlier this month. It's unclear from these stills who Superman is rescuing, but it seems like a pretty big operation judging by the helicopter that was called in and the working men that he's with.
Amy Adams has also been shooting her scenes in Vancouver Island, so it could be that maybe her Lois Lane is the damsel in distress that Superman has to rescue. Or it could be that she's doing a news report for the Daily Planet on the event, considering the fact that she was last spotted filming a scene where she interviewed a waitress at an Alaskan truck stop.
"Man of Steel" is directed by Zack Snyder and also stars Russell Crowe, Michael Shannon, Diane Lane, Kevin Costner and Lawrence Fishburne. It is scheduled to hit theaters on June 14, 2013.
What do you think of these latest "Man of Steel" set photos? Tell us in the comments section below or on Facebook and Twitter.