New "Man of Steel" set videos show Henry Cavill saving the day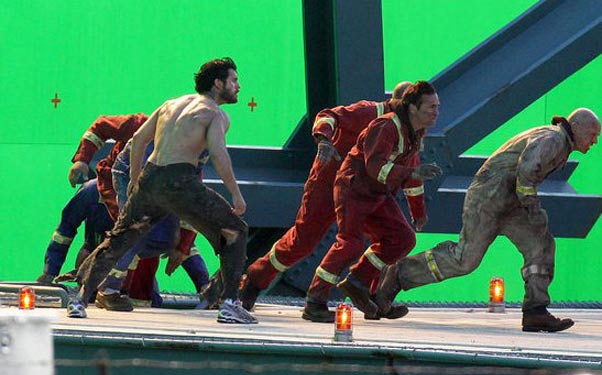 Posted by Terri Schwartz on
Hot off the heels of the "Man of Steel" Vancouver Island set photos that hit the web earlier this week are two set videos showing leading man Henry Cavill filming a rescue mission. Zack Snyder can be seen directing Cavill and a group of men dressed in work uniforms on a set created to look like a helipad. The whole scene is set up against a green screen so its hard to tell what exactly the context of the sequence is, but it's clear from the videos and previous photos that Cavill's titular Man of Steel is pulling off a rescue mission.
Cavill can be seen running up a set of stairs with the workers and ushering them onto the helicopter after it lands. After they've safely boarded, he runs over to another part of the helipad and looks at something off in the distance.
In the second video, Cavill can be seen trying to hold put a gear-shaped metal object that looks like it's about to fall onto the helipad. It's unclear what the item is or why it's about to fall on the helipad, but it's clear that it's no good for Superman or anyone else involved.
Judging by earlier set photos, it seems like Cavill is in Clark Kent mode during these scenes despite the fact he's using his impressive Superman strength to save these men. It could be that this is the event that Amy Adams' Lois Lane it reporting on in the photos that hit the web of her on set.
It's funny to see Cavill doing some quick pull ups for a workout in the first set video. Doesn't the man — or Snyder's budget — have enough money to have him in an actual gym? As a potty-mouthed observer states in the video, Cavill certainly is beefy enough to pull off a convincing Superman.
What do you think of these new set videos? Share your thoughts in the comments section below or tell us on Facebook and Twitter.