"Man of Steel" set photos reveal Henry Cavill showing off his abs of steel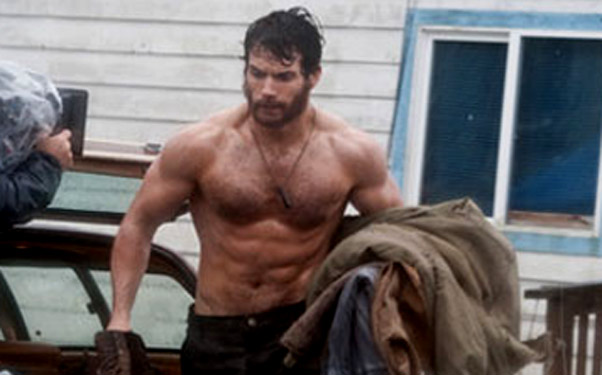 Posted by Terri Schwartz on
While Amy Adams has been busy filming her scenes bundled up on the Vancouver Island set of "Man of Steel," titular leading man Henry Cavill has taken a different approach. A whole slew of photos have hit the web showing the "Immortals" star wandering around shirtless on the set that is supposed to be an Alaskan fishing village.
And there certainly are fish in the photos. In one, a bunch of salmon steaks can be seen drying in the background. Judging by Cavill's rugged, bearded look, work boots and ripped jeans, it seems like his Superman might take a break from crime fighting and his side job at the Daily Planet to live off the land for a bit. Or he just has a different definition of "vacation" than I do.
It's unclear how the Alaskan fishing village storyline will fit into the full plot of "Man of Steel." Adams's Lane was seen interviewing a waitress at an Alaskan truck stop in set photos released earlier this week, so she could be trying to track down a certain superhero who just happened to decide he wanted some man time to go fishing. Or maybe Lane and Kent are working together on a story that led them to some investigating up in arctic climes. We'll have to wait until "Man of Steel" hits theaters on June 14, 2013 to find out.
"Man of Steel" is directed by Zack Snyder, and also stars Russell Crowe, Michael Shanon, Diane Lane, Kevin Costner and Lawrence Fishburne.
Do all these set photos make you more excited about seeing the finished product? Let us know below or on Facebook or Twitter.