Watch Harrison Ford play the Indiana Jones-like video game "Uncharted 3: Drake's Deception"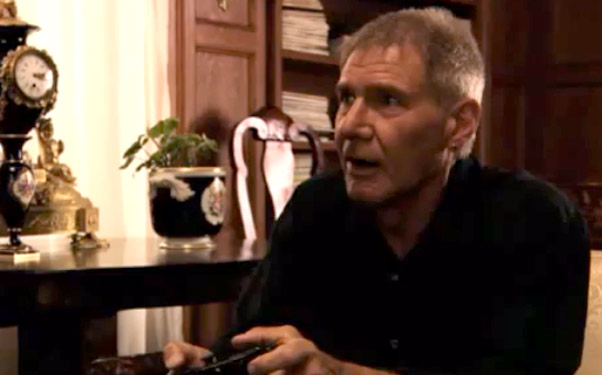 Posted by Terri Schwartz on
A swashbuckling treasure hunter who spends his time stealing remote, mysterious items. Exotic landscapes and sexy, troublesome female leads. Continued trouble with Nazis. Are we describing the "Indiana Jones" film series or the "Uncharted" video game franchise? Well, in this case we're talking about both.
Anyone who's even taken a minute to look at the "Uncharted" franchise knows that it is largely inspired by the escapades that archeologist Indiana Jones got into in Steven Spielberg's film series. And so, in a stroke of marketing genius, Sony enlisted none other than Harrison Ford to play a demo of "Drake's Deception," and recorded his surprisingly enamored reactions to the game.
It's clear from the video above that Ford isn't especially familiar with playing the PS3, but that didn't stop him apparently enjoying the game and its lead character Nathan Drake.
"I think it's remarkable. The storytelling is very visual and exciting and the action just keeps on coming. I think it's very realistic and very dramatic. I love the reality of the character's reactions to the situations he's in. It's very exciting," Ford said in the midst of yelling "Go! Go! Go!" at Drake onscreen.
According to Ford, this is the first time he's played an "Uncharted" game and he found it "very challenging." The actor beloved for his performances as Indiana Jones and Han Solo also couldn't help comparing the cinematic game to the movies he's acted in.
"There's so much more action here than there is normally in a movie. It's so much more concentrated. Of course, there are a lot more, when you're an actor playing in a role, there are a lot of other obligations that you have, but it's very much like being in the movie for me. Except, the movie I always win. In the game, sometimes I don't win," he said with a smile.
"Uncharted 3" hits store shelves November 1.
Are you glad to see that Sony finally brought together "Uncharted" and Harrison Ford? Tell us in the comments section below or on Facebook and Twitter.