Countdown to Top Ten 2K11: "Hanna"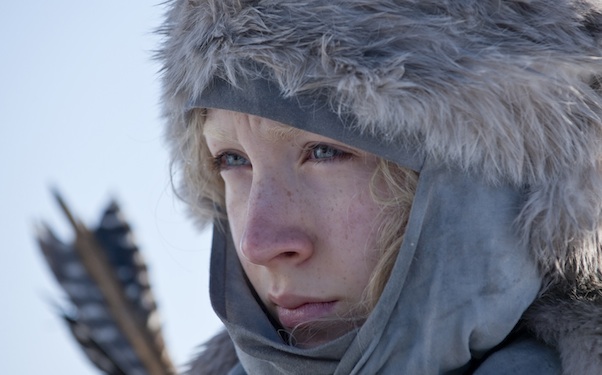 Posted by Matt Singer on
We're just two months away from the end of the year and the start of top ten list season. If you're a hardcore movie nerd like me, you look forward to December with a mixture of anticipation and dread. Making a top ten list is super fun but it's also super daunting. There are so many movies to see, and only so many hours in a day.
Seeing every single movie released this calendar year is impossible, so you've got to pick your battles. That's where Countdown to Top Ten 2K11 comes in. The goal of this column is simple: as I catch up with the 2011 movies I missed in order to fill out my own top ten list, I'll tell you whether or not you need to catch up with them as well before making your top ten list. Each installment will feature my thoughts on the movie, a sampling of other critics' reactions, the odds of the film making my own list, and the reasons why it might make yours.
Let's kick things off by travelling to the Arctic, the site of one of the most critically acclaimed action movies of the year.
Movie: "Hanna"
Director: Joe Wright
Rotten Tomatoes Score: 71%
Plot Synopsis: A teenage girl named Hanna (Saoirse Ronan) trained in the wilderness by her father (Eric Bana) to be the perfect killing machine is sent to civilization to assassinate an evil CIA agent (Cate Blanchett).
What the Critics Said: "An entertainingly nutty action thriller," David Denby, The New Yorker
"The bad-ass girl-power movie 'Sucker Punch' wanted to be," Christy Lemire, Associated Press
"Almost a terrific movie, or a partly terrific one," Andrew O'Hehir, Salon
Were They Right? O'Hehir was the closest, though I liked the movie a bit more than he did, I think. I was actually surprised to see the film had just a 71% rating on Rotten Tomatoes, because I've read and heard some really strong endorsements on the film; "Hanna"'s apparently more divisive than I first realized.
My own opinion of the film is somewhat divided as well. The premise is intriguing and some of the action is fantastic (what's better than Eric Bana taking on four dudes at once? Eric Bana taking on four dudes at once in a insanely long unbroken shot). Less fantastic is the film's obsession with its own artfulness. With her years of training, Hanna makes everything she does look so easy; why, then, does the movie look like it's trying so hard? It doesn't take long for "Hanna" to establish itself as a contemporary take on an old fairy tale. Wright's allusions to Grimms' old stories are quite subtle at first — a hero who looks like Goldilocks, a villain who whistles like the Pied Piper — but he keeps piling on more, one after another after another. One character actually says "So off to Grandmother's house we go!" Another screams "Run little piggy!" The final showdown between two characters takes place on a Big Bad Wolf themed roller coaster in an enormous Grimm-inspired amusement park. It's like Wright can't stop himself. Eventually, the subtext overwhelms the text.
Still, there's a lot to enjoy here. Ronan gives an impressive performance; a bit mannered, but appropriately so, since her character has spent her entire life cut off from the rest of society. She's equally credible playing confused and cunning. Bana is great too in limited screentime (Blanchett, on the other hand, seems oddly stiff as the Wicked Stepmother character). Alwin H. Kuchler's cinematography shines in obviously showy moments like Bana's one-take fight scene and Hanna's lengthy escape from a CIA safehouse, but he also does a nice job of filling the frame with subtler visual cues for each of the movies numerous locals, from the Artic to Morocco to Germany, so that we always know exactly where we are in any given scene. The Chemical Brothers techno score is used sparingly but very effectively. And Wright puts in all these strange little details that give "Hanna" marvelous texture: a close-up of a young girl's face so tight we can see the peeling skin on her sunburnt nose; a woman cleaning up the crumbs from her kitchen table in the moments before her murder; an obsessive mercilessly scrubbing her gums until they bleed. I just wish he didn't go so far overboard with the fairy tale imagery. Hanna, who's lived her whole life in a complete cultural vacuum and doesn't know Romeo and Juliet from Sawyer and Juliet, could have picked up on these references.
Worthy of Oscar Nominations For: Original Score, Cinematography
Chances of Making My Top Ten: Very slim.
It Might Make Your Top Ten List If: If you liked "Atonement," but wished there were more scenes where Saoirse Ronan kicked people in the neck; you reeeeeeally get off on fairly tale imagery.
"Hanna" is now available on DVD and Blu-ray. Tell us what you think about the film in the comments below or on Facebook and Twitter.