Someone else is suing about "The Hangover Part II"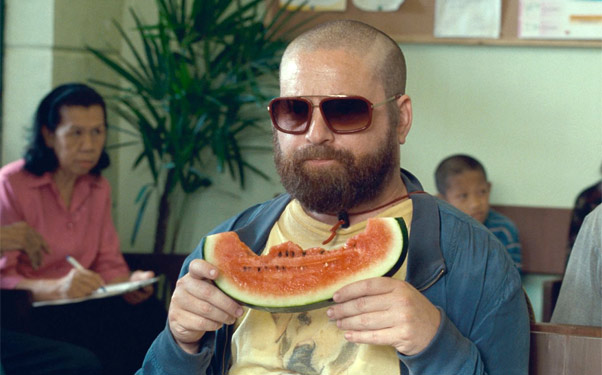 Posted by Aubrey Sitterson on
Well before anyone was ever disappointed by "The Hangover Part II," the movie was already facing litigation from the tattoo artist who created the tasteful bit of tribal worn by Mike Tyson in real life and by Ed Helms in the fictional Hangoververse. That lawsuit was settled out of court, but now Warner Bros. and the "Hangover" filmmakers are staring down yet another angry plaintiff.
Entertainment Weekly nabbed the story, reporting that the screenwriter behind the suit, Michael Alan Rubin, claims that the film stole from his script, "Mickey and Kirin," which is based on his actual experiences during and after a honeymoon in Asia. Normally, someone trying to cash in on a lucrative movie after the fact would irritate us, but in this case we just feel sorry that Rubin had such a formulaic, laughless time. No one deserves that.
Rubin claims that his ex-wife, Tamayo Otsuki, gave his ideas to the "Hangover" filmmakers, and his suit lobbies complaints of copyright infringement and fraud. Interestingly, while he accuses the film of taking from his own life story, apparently the bit about Ed Helms' character having sex with a transsexual prostitute was too far, leading him to also accuse the studio of defamation.
The case, which sees Rubin representing himself – always a sure sign that a lawsuit is reasonable and well founded – was filed in U.S. District Court in Los Angeles last week.

What do you think about Rubin's claims? Tell us in the comments below or on Facebook and Twitter.