Greg Proops talks about balancing improv, stand-up, and tailoring the comedy to the audience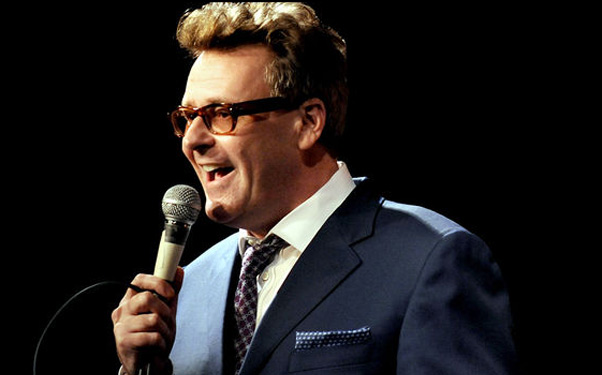 Posted by IFC on
If you don't know who Greg Proops is, you probably haven't watched television, listened to the radio, been to a stand-up comedy show, or otherwise been exposed to any form of entertainment in the last 30 years. From "Whose Line is it Anyway?" to "The Nightmare Before Christmas" to "Bob the Builder" to "Star Wars Episode I: The Phantom Menace" to "The Smartest Man in the World," he's worked in comedy clubs all over the world, been on numerous television shows, recorded radio shows and podcasts, and provided the voices of characters in some of the biggest films of all time. And perhaps most miraculously, he's managed to move from one project to the next, for more than three decades, without sacrificing any of his personality, much less his '50s hipster personal style.
Proops got his start as a class clown before venturing out in front of the microphone in San Francisco as a teenager. But it was in college at San Francisco State University where he discovered a real aptitude for improvisational comedy, joining up with a group of virtuosos that not only expanded his repertoire but opened up a variety of professional opportunities, including stints on both the British and U.S. versions of "Whose Line is it Anyway?" From there, he gained a well-deserved reputation as a versatile comedian and all-purpose entertainer.
IFC caught up with Proops for a chat about his career, and his comedy. In addition to discussing how he got started in stand-up and improv alike, Proops talked about the techniques that brought him success in both areas, and examined the past, present and future of the field in which he's become not just an elder statesman, but an expert.
Let's start at the beginning. How did you get started in comedy? Were you always a funny guy?
I was a spaz back in school and I did plays and all of that jazz, and all of the variety shows and stuff. I kind of just always wanted to do it. And when I got to be a teenager, I started doing stand-up, and then when I got to college in San Francisco I started going to the clubs in earnest.
Was there a kind of formative training during that time, or did that experience just naturally augment your own comedic impulses?
Oh yeah, there was decidedly a formal [training], doing open mics the old fashioned way, you know – a million shows of stand-up. I was in a comedy group, too, called Fault Lines, and we were a group in San Francisco when we were in college. We also played at clubs and stuff, so I was doing improv as well. So I did thousands of gigs of stand-up and improv as a kid.
Does performing stand-up and improv comedy concurrently help or affect each style?
Well, I think that the improv gives you the confidence to lean back and know that it's going to be okay when you're doing stand-up. I can come off of the script if I want and not panic. Strangely most improvisers don't like stand-ups and most stand-ups don't care for improv very much, but I've kind of been able to do both. I understand why they don't: improvisers think stand-ups are selfish and focused on one thing, and stand-ups think improv's not funny (laughs). But for me they have complemented each other, so it's been fun for me.
Has it been tough to stay out of that conflict between stand-up and improv comedians?
I've never had a problem. I've never been in any conflicts between improv [comics] and stand-ups. But again, like you say, because of the groups I'm in, I'm pretty lucky; everyone I work with is the ten or 15 improvisers in the world that anyone would know from TV, which is a fairly small, lucky group. It's pure fortuitousness that it was us; I don't think we're better than any other improvisers in the world. I don't even think I'm the best improviser in my group. I think I'm like the Ringo [Starr] in my group. I mean, I think Mike McShane and Jim Sweeney, and guys like Ryan Stiles are just really a troupe of improvisers; I don't consider myself a superb improviser. But I think I can do it.
How formalized would you say your comedy is, either in preparation or execution?
Well, formal, I have an act, a written act, but I improvise within it, and without it. So when I do improv with all of the groups that I play with, I just wing it. But in stand-up, I definitely have an idea of what I'm going to do. And then the podcast, I make up almost completely, just with notes and stuff; that I sort of wind around what I'm reading that day.
Would you say improv comedy is reliant on a sort of muscle memory? Do you have to practice to get ready before a show, or does it always come naturally?
No, I don't do it all of the time, but I work all of the time, so it doesn't really go away. Stand-up I think is harder when you don't do it for a while; if you don't exercise your stand-up muscle, you can get a little rough, and it takes a few steps to kind of clear the cobwebs out. With improv, when I get with the guys I find we start right where we left off. We don't really need to get up to speed too much.
If you're working with a new group of improvisational comedians, do you have to acclimate yourself to them beforehand?
It's easy to fit in with other people. The thing is that there's a familiarity with other people that you work with all of the time where, like I said, you just pick up right where you left off. And with new people, you kind of have to feel them out a little bit – but it's not that wild of a ride. I mean, I'm able to kind of jump right in and do it. I went to Austin this year for the Out of Bounds Festival and they had me do improv with them, and it was fun. It's fun to play with new people and see where they're coming from. I mean, improv is kind of a big, for lack of a better word, fraternity, and there's just a difference of what people like to play, whether it's long-form or short-form and all of that. We tend to play, in the groups I'm in, in short-form, but I can certainly do long-form, meaning like they'll do a musical or Shakespeare or something really long. And some of the more [long-form] stuff doesn't turn me on as far as improv goes, so that's why I think that the podcast is the most fulfilling, because it's a combination of stand-up and improv.
Are there different techniques for improvisational comedy? For example, do some people approach improv from a character standpoint, whereas you might from a storytelling standpoint?
It depends on I guess the games you're playing and all of that jazz. As far as technical proficiency, it's a skill you learn doing when you do improv. I mean, I think if you're an improviser, you should be able to get up there and just do it, no matter what it is we're doing – whether it's Sherlock Holmes or we're just playing tag or whatever. For me, I find improv can be a little precious, and they like rules and stuff like that. But for me, the point of improv is that there's no rules; I mean, you're making it up. A little but if guidance is always good, which is I think why the games are there. But I also think that sometimes, serious improvisers think "Whose Line Is It Anyway?" is not straight-up improv because we play so quickly and we do these little games. And it isn't – it's sort of a TV version. I mean, it is improvised, completely, but it's kind of an amped-up version of improv. And they're a little more proprietary about what does and doesn't constitute improv. For me, the goal of all of these exercises, whether it's improv or stand-up, is to be funny; that's first and foremost in my mind.
Can you analyze the mechanics of comedy, like what word or movement is funnier than another one? Or is it all pretty intuitive?
I think after 100 years of doing it, there is a set of things you can do, and tricks and stuff like that. But I think it's both; I think you're trying to bring craft to bear, but you're always trying to be intuitive and spontaneous and not think about it too much. The problem is that if you start editing yourself, and that's when you don't say the first thing that comes to you mind that's funny, and usually that's the funniest thing, strangely. Something you haven't thought of often turns out to be funnier, although having said that, I've thought of things that were funny and said them and they worked. You have to trust what you're going to do it funny, I guess.
Does stand-up require you to refine your language or delivery, or similarly, does it require you to be present and intuitive?
Oh, no. if you're just walking through it, the audience can smell it a mile away. You have to be present for everything you're doing. Being engaged is the whole enchilada as far as I'm concerned. For me the point of all of this is to connect with the audience, and if you're not connecting with the audience they can tell. They can tell whether you're funny, and they can tell when you don't care, so I think it's always good to pay attention, yes.
After having been in the business for a number of years, how would you say comedy has changed throughout your career?
When I first started it was National Lampoon's and Saturday Night Live and Monty Python, and now it's Tina Fey. I think there's been a mad shift. I've seen it opened up way more to everybody; there weren't that many women comedians even when I started. In the early '80s, there wasn't the number that there is now, and they didn't get the respect they do now. I think that's a difference. And of course, comics of every nationality, you didn't really have that 25 years ago. You had a few, and I'm from San Francisco, so yeah, there was always a lot of them, but not on a national level. But does the aesthetic change? Yes, all of the time – I think every succeeding generation. But also concurrent with that, every new generation of comedy fans have never heard all of the old jokes before, so they think they're new, which I find very amusing.
Are you a student of older comedians? Even if only so that you're not rehashing old bits pioneered by your predecessors.
Oh, I think you just go with the flow. I don't think about what anybody's doing, I only try to do what I think is funny. I mean, when you start thinking about the audience, or catering to anyone, you're not being true to yourself and therefore you're not being funny. Honesty is super important, I think. When you're a comedian you can't talk about things you don't care about on stage, because I think that audience will read that you're being dishonest with them. At least, that's my experience; I'm sure people get away with some characters they hate, but I think that's what will end up happening if do something you don't like or you don't believe. You grow out of it, and you're mad that you still have to do it.
What's the most important thing to focus on or remember in order to ensure that you're delivering an honest performance? Especially given the fact that you've done voice-over work, where you may not have written lines yourself?
Well, acting (laughs). Sincerity is the most important thing to me. I did a sitcom on Nickelodeon for a couple of years and the writers on that show were very funny, and I think you just dive in headfirst. Also, you're not alone out there; on a TV thing, there's other cast members, and I find that they tend to be wildly funny, so you can kind of get in their grooviness, and let them be hilarious too, and still be confident that you're going to be noticed.
You mentioned Nickelodeon. If you're working for a network or somewhere there are language or content constraints, how tough is it to internalize that and stay in the moment?
I mean, on the Nickelodeon show, it's one kind of comedy, and if you do Chelsea Lately, that's another kind of comedy. Whose Line is a live show, and that's another kind. And my podcast, that's another kind entirely. I just shift back and forth between them without giving it too much thought. I know not to curse like a sailor if it's inappropriate on a certain thing. When I do the podcast, I don't think there's a way to be more up front; it's just important to be as sincere and from the heart as possible. I think that's what people want from it, and it's certainly what I want from it. When you're doing improv, you have to give over to the group, you know; there's a bunch of us, so you can't just hog it up and say whatever you like. That's the biggest difference between stand-up and improv – there's a little more Islam in improv, a little more surrender. I think you surrender to the will of more people.
Can you switch your comedy on and off?
Well, I make jokes all of the time. I'm just a natural goofball or whatever, so I'm not like deadly serious off the stage and don't let anyone ever come near me that's not taking me seriously. Yes, there's times in your life when you want to be taken seriously, and I assume that if I'm in public, then people recognize me as a comic, and therefore it would be nice if I had an engaging personality as opposed to being a miserable fucker when they meet me. But it doesn't bother me that much.
Are there times or specific situations when you'll sort of turn off that comedic impulse?
Oh no, it's always there. To destroy any situation with jokes is my prerogative. I know when it's inappropriate and when you oughtn't make a joke of something, but the impulse is always there. I do a political show in LA on Pacifica Radio called Comedy Congress, and sometimes they ask you a serious question, and you're allowed to give a serious answer within the context of a comedy show, and make it funny as well. You can kind of do both sometimes, I think. And I take on serious topics in my podcast, and I don't feel the need to be hilariously funny with every single thing I say. I feel like I have the air in the room, and the latitude the audience gives me in the podcast to say something serious or something of substance and not necessarily expect a huge laugh, or be disappointed when they don't.
What's your favorite Greg Proops comedy performance? Tell us in the comments below or on Facebook or Twitter.