Five new scariest moments in non-horror movies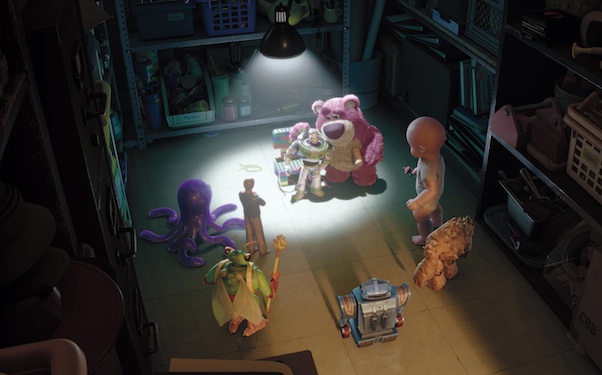 Posted by Matt Singer on
One of my favorite pieces we've ever done here on IFC.com was our Halloween 2009 list: "The 25 Scariest Moments in Non-Horror Movies." It featured great writing from critics like Matt Zoller Seitz, Sam Adams and others, and it was just a great topic. Arguably, the scary scenes in supposedly non-scary movies are more terrifying than the ones in horror movies because they catch us off-guard. You pay for "The Exorcist," you know what you're in for. You pay for "Raiders of the Lost Ark," you think you're in for an old-fashioned adventure until Nazis' faces start melting all over the place.
Our original list from 2009 holds up, but in the past two years there have been some new, unforgettably scary moments in non-horror movies. So in honor of Halloween 2011, here is an update. We typically like including YouTube videos in this sort of list, but these are recent movies so they're not always readily available; we improvised as best we could.
The Furnace Scene
from "Toy Story 3"
Directed by Lee Unkrich
Years after year of mature entertainments have given Pixar the well-deserved reputation as a studio that makes family films for both children and adults, but "Toy Story 3" was so dark it turned adults into children: screaming, crying, begging-for-Mommy-style babies. In one of the most disquieting representations of the inevitable end maybe ever, destiny leads the toys into a giant trash furnace where, with no escape possible, they accept their fate, lock hands, and wait for death. It looks like it's all over but the melting. Luckily for the toys, things worked out okay thanks to a last minute deus ex machina; unluckily for plenty of people in the audience — myself included — they remained just a wee bit scarred for life. Scariest of all? After all that time at the trash dump, kids start playing with these toys again. Just think of all the germs! Pixar's going to have to call the next movie in the franchise "Toy Story 4: Contagion 2." Blech.
---
Three Serial Killers Walk Into a Car…
from "I Saw the Devil"
Directed by Kim Ji-woon
Technically "I Saw the Devil" is a thriller or a cat-and-mouse chase movie, but it has more scares than a lot of "real" horror movies. It opens like a horror movie too, with a young woman savagely murdered on a deserted road in her broken-down car. But then the woman's fiancé, a super-badass secret agent, decides to get even with the monster who killed his lover by turning himself into a monster; for the rest of the film, the two battle it out an increasingly gruesome series of encounters. Escaping from one of their fights, Kyung-chul (Choi Min-sik) manages to hitch a ride which, by sheer coincidence, is being driven by a couple more deranged killers. After a brief stand-off, that leads to this terrifying and dizzying scene, as Kyung-chul wildly stabs at the other two guys while the car careens off the road. The real horror here is the blood; not so much the amount of it but the way it seems to be spraying unpredictably in every direction, even on the camera lens, which suggests that the messy frenzy was too much even for the cinematographer to handle. If "I Saw the Devil" isn't technically a horror movie, scenes like this one prove it is definitively a movie about horror.
---
"Is This Gonna Be Our Time?"
from "Winter's Bone"
Directed by Debra Granik
A cop pulls over a man and a young woman in a pickup trick. The man never gets out of the truck, never even turns his head to look at the police officer; he just tightens his grip on the shotgun between his legs and speaks to the cop through the side view mirror. After a few terse, tense words, Teardrop (John Hawkes, in a performance that earned him an Oscar nomination) brings his weapon into view and evenly says "Is this gonna be our time?" The cop backs off. As this scene shows, facing down a man who isn't afraid of death can be just as scary as facing down death itself.
To watch this scene on YouTube, click here. Below is embedded another scene from "Winter's Bone" featuring more super-intense acting from John Hawkes.
---
Home Invasion
From "Martha Marcy May Marlene"
Directed by Sean Durkin
Another amazingly tense scene featuring actor John Hawkes. In this one from the still-in-theaters "Martha Marcy May Marlene," Hawkes and his cult have invaded a random home when the robbery is interrupted by the homeowner. Hawkes' Patrick doesn't want to hurt anyone (or so he says), but he also can't let anyone know about his group or their crime spree, which creates a dilemma. Hawkes is not a traditionally scary screen presence. He's not a big, physically imposing dude; as you can see in the scene below, he's actually shorter than the guy he's scaring the shit out of. So why does he make this list twice? Because he's so good at playing characters who never lose their cool, even when they should. There's something really unsettling about the way Patrick and Teardrop never raise their voice and never gets upset. In other words, it's not that John Hawkes looks all that intimidating. It's that John Hawkes never looks intimidated.
---
The Motel Double Cross
from "Drive"
Directed by Nicolas Winding Refn
Like "I Saw the Devil," "Drive" is a hybrid, and I swear I'm not saying that to make a cheap car joke (at least not on purpose). It begins as a straight heist movie, becomes a character study, then turns to the crime genre again before exploding — literally exploding — with so much gore that it begins to look like a slasher movie. Again, it's the unexpectedness of that sudden shift into violence that makes it particularly effective. The most disturbing sequence comes just after Ryan Gosling's Driver has been double crossed by the guy who hired him to participate in a pawn shop robbery. Just as he realizes the scope of the conspiracy, shotgun wielding goons arrive to finish the job. In the interest of preserving said surprise I'll leave things there, except to say after watching "Drive" you'll never look at Christina Hendricks in "Mad Men" the same way again.
You can see brief glimpses of the motel sequence in the red band trailer for the film, embedded below:
---
What's your favorite scary moment in a non-horror movie? Tell us in the comments below or write to us on Facebook and Twitter.