Five new clips from Steven Speilberg's "The Adventures of Tintin" hit the web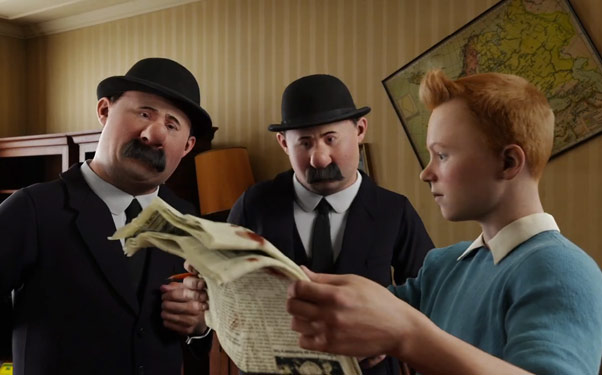 Posted by Terri Schwartz on
Hot off the release of last week's badass "The Adventures of Tintin: The Secret of the Unicorn" UK trailer, Paramount Pictures has released a whole slew of new clips from the upcoming 3D CGI action flick. These first full-length video teases of "Tintin" give a much better idea than the trailer did of what fans can expect from the Peter Jackson/Steven Spielberg collaboration.
video player loading
.
.
.
The five clips released take place throughout the movie. One introduces Detectives Thompson and Thompson (Simon Pegg and Nick Frost), while another follows Tintin (Jamie Bell) shortly after he meets Captain Haddock (Andy Serkis) for the first time.
The clips also introduce Red Rackham (Daniel Craig) for the first time. Rackham was the pirate who attacked the ship Unicorn that was captained by Haddock's relative, Sir Francis Haddock. He ends up being the villain in the flick.
It's exciting to see full portions of "Tintin" because finally fans can get a good sense of how WETA used motion capture to portray the animated characters. Though they look cartoonish on the surface — just look at the round noses and bushy moustaches on Thompson and Thompson — the characters' movements are almost too human. Motion capture has been used in animated films before, but never to this degree. The animation looks fantastic in these clips and in the trailers, and it will be interesting to see the effect "Tintin" has on the animated film industry.
"The Adventures of Tintin: The Secret of the Unicorn" was written by Steven Moffat, Edgar Wright and Joe Cornish. It is slated to hit theaters on December 23, 2011 in RealD 3D and IMAX.
What do you think of these new clips from "Tintin"? Tell us in the comments or on Facebook and Twitter.