Schwarzen-Watch: Arnold, Sly, and Bruce together on "The Expendables" set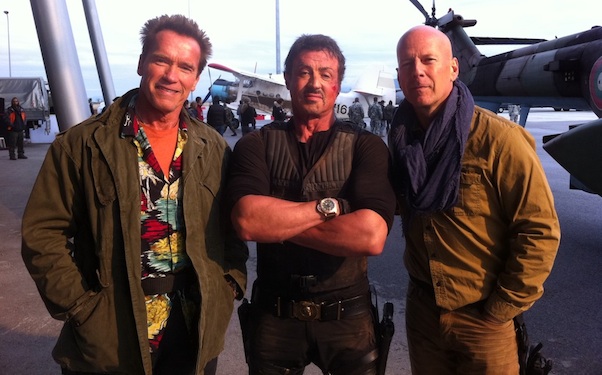 Posted by Matt Singer on
IFC.com's film writer, Matt Singer, is the biggest Arnold Schwarzenegger fan on the planet. He blogs any time any news about Schwarzenegger's return to acting, no matter how flimsy or improbable, hits the Internet.
Direct from the most important entertainment news outlet on the planet — Arnold Schwarzenegger's Twitter feed — comes the charming photo featured above, taken on the set of the mega-ensemble action flick "The Expendables 2." Schwarzenegger! Stallone! Willis! Willis' incongruously fashion forward man-scarf! Here were the 140 or so characters that went with it.
"Back in action for The Expendables 2! I'm having a fantastic time on set with Bruce and Sly in Bulgaria."
According to Bleeding Cool, Schwarzenegger's in Bulgaria for just four days of shooting. That's not much, but look at it this way: he probably shot half a day on "The Expendables 1." Four days' work on "The Expendables 2" translates to approximately eight times as much of Schwarzenegger's Mr. Trench in "The Expendables 2."
What kind of a name is Mr. Trench anyway? The kind of name a guy who's previously been called John Matrix, Jericho Cane, Ivan Danko, and Kalidor goes for. And if you know which Schwarzenegger movies belong to those Schwarzenegger character names, congratulations! You're just as sick as I am.
What do you think of the 80s action stars back together again? Tell us in the comments below or on Facebook and Twitter.