Exclusive Clips from Season Two of 'Portlandia'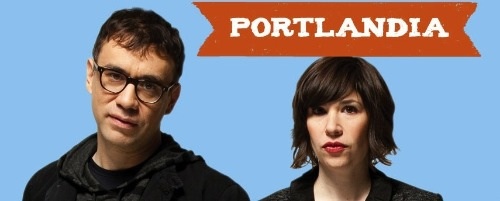 Posted by Melissa Locker on
You may recall from here and maybe here, we went to New York Comic Con and with the help of Saturday Night Live's Seth Meyers, talked to Fred Armisen and Carrie Brownstein about the upcoming second season of "Portlandia." At the panel we talked about birds, eating local, and what is SO over now. We also showed a few exclusive clips that offer a sneak peek into the world of Fred, Carrie, Candace, Toni, Bryce, Lisa, and the City of Portlandia. We know that not everyone could make it to New York — and not everyone has a Master Shake costume and is embarrassed to be seen in public — so for all those who weren't there, here is …
…* Drum roll please* … your exclusive sneak peek into "Portlandia" season two:
video player loading
.
.
.
And for your viewing pleasure, here are some of the highlights of the first season of "Portlandia":
video player loading
.
.
.
Want more "Portlandia"? Follow along on Twitter and like the show on Facebook
The second season of "Portlandia" premieres on IFC in January 2012