"Back to the Future" retro wave continues as electric DeLoreans eyed for 2013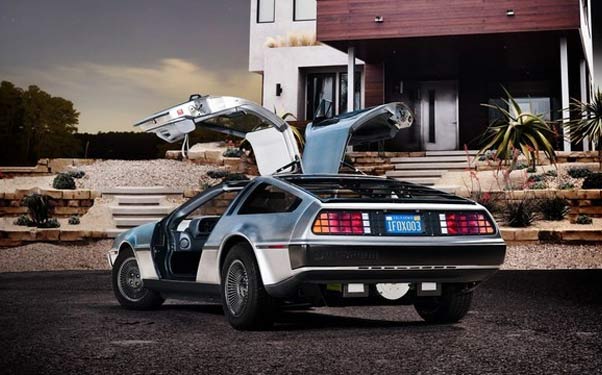 Posted by Aubrey Sitterson on
Way back in 1982, three years before the DMC-12 achieved lasting fame in "Back to the Future," the original DeLorean Motor Company crashed and burned. But now, a newer company with the same name is making moves to bring the DeLorean back in 2013, as a completely electric model.
Since 1995, Stephen Wynne's DeLorean Motor Company has used the remaining inventory from the short-lived company to cater to the DeLorean collector community, even building "new" cars from remaindered parts and new technology. The company is now planning to take a step further into the future by teaming with Epic EV, an electric-car start-up to put all-electric versions of the DMC-12 into production. This comes on a rising tide of nostalgia-based "Back to the Future" tie-ins, including a return to movie theaters as well as the limited release of the 2011 Nike Mag sneakers.
The automobile news site Jalopnik picked up the story, which fittingly broke at the International DeLorean Owners Event. The site hypothesized that the car would be similar to Epic EV's Torq Roadster, which has "a 200 hp+, 44V/156V electric motor, powered by a 24-30 KWh lithium ion phosphate battery." We were too busy playing with action figures as a kid to learn anything about mechanics or other practical skills, but suffice to say, it probably won't have enough juice to get you to 1955.
What do you think about the new all-electric DMCEV? Is your garage big enough for gull-wing doors? Tell us in the comments below or on Facebook or Twitter.