First look at Darren Aronofsky's "Noah" graphic novel hits the web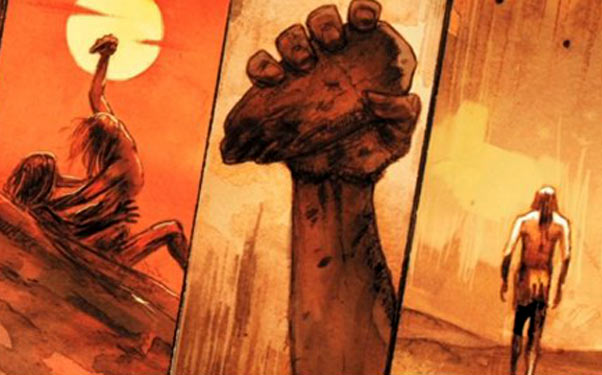 Posted by Terri Schwartz on
It was announced in February that before Darren Aronofsky puts his film "Noah" in front of the camera, audiences are going to get a chance to read the flick in comic book form. Residents of France have just been lucky enough to be reading the first issue of the story since October 7.
A French book trailer and pictures of the cover and first few pages of the French release of the graphic novel, called "Noe," have hit the web today and finally give a sense of what we have in store for Aronofsky's latest epic. The "Black Swan" director told IFC in June that he isn't necessarily going the religious route with the film, and is instead going to treat the Noah story as a fable.
"I don't think it's a very religious story," he said at the 2011 Provincetown International Film Festival, where he was receiving career-spanning honors. "I think it's a great fable that's part of so many different religions and spiritual practices. I just think it's a great story that's never been on film."
Based on the translated synopsis of the graphic novel, that's exactly the route he's taking. Aronofsky has long said that "Noah" is going to be his "big event film" along the line of one of Roland Emmerich's disaster movies, and there are few end-of-the-world stories as well known as Noah's.
The official synopsis of the graphic novel reads as follows:
"It was a world without hope, a world with no rain and no crops, dominated by warlords and their barbarian hordes. In this cruel world, Noah was a good man. Seasoned fighter, mage and healer but he only wanted peace for him and his family. Yet every night, Noah was beset by visions of an endless flood, symbolizing the destruction of all life. Gradually he began to understand the message sent him by the Creator. He had decided to punish the men and kill them until the last. But he gave Noah a last chance to preserve life on Earth."
"Noah" is being prepped to begin production in the spring. There's still no word on any casting decisions for the project, though it has been rumored that Christian Bale will play the titular role.
What do you think of the synopsis and pictures released of the graphic novel? Is this a project you are excited to see? Tell us in the comments section below or on Facebook and Twitter.