Christopher Lloyd talks about "Piranha 3DD" and his character's crazy new direction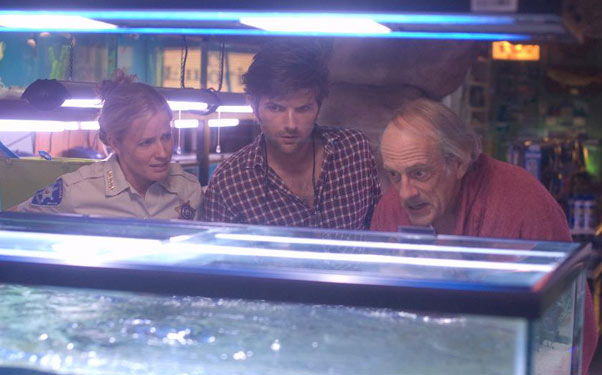 Posted by IFC on
Christopher Lloyd, who costarred in 2010's exploitation celebration "Piranha 3D," told IFC that in its forthcoming sequel, he will be reprising his role as Mr. Goodman, the eccentric pet shop owner who provides the rest of the cast with vital information about the deadly, man-eating fish. During a phone interview Tuesday for his new film "Snowmen," Lloyd indicated that in "Piranha 3DD," Goodman might have become even crazier than before, which sounds like exactly the sort of acting challenge that's right up his alley.
When asked if he's going to play the same character, he said, "that's right, yeah. But somehow it's like tweaked in a certain direction. I don't know whether the character has become a little frantic, or is losing his moorings a little bit, but it's not exactly the same – which I feel fine about."
Lloyd credited the new writers, Patrick Melton and Marcus Dunstan, with the new direction his character takes. "It might be the writing, a little bit of the writing and a little bit of the situation that I had to play out, but I feel it has a different edge from the last time." Meanwhile, Lloyd said that one thing that will not change is his proximity to the hordes of bloodthirsty piranha that have a tendency to leave other cast members bloody and bitten into pieces.
"I'm not near the water at all, other than the aquarium I have in my shop with the piranha in it," he said. "I'm in the shop the whole time."
"Snowmen" opens on October 21 in limited release. "Piranha 3DD" is schedule for release some time next year.
Are you excited to see Christopher Lloyd return to offer expert advice on carnivorous fish? Tell us in the comments below or on Facebook or Twitter.