Christopher Lloyd discusses getting morbid for "Snowmen" and what it's like playing a sage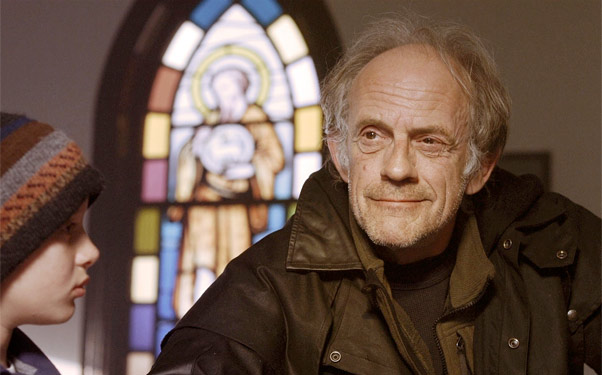 Posted by IFC on
The new movie "Snowmen" — out today — might need an introduction, but one of its stars, Christopher Lloyd, certainly does not. He's been working for decades on TV and in films, including "Taxi," "Back to the Future," "Who Framed Roger Rabbit?," and countless others, contributing a singular sort of eccentricity that's as undefinable as it is irresistible. And yet, in "Snowmen," he plays a relatively straightforward role as a caretaker at a cemetery who offers some much-needed advice to a group of kids in the midst of dealing with such weighty issues as life, death, and doing something worth remembering.
IFC caught up with Lloyd for a discussion about his work in "Snowmen"; additionally, he talked about his legacy as an actor known for being a bit odd, and examined the challenges of living up to others' expectations while still satisfying his own.
The story of "Snowmen" is weirdly morbid – it almost feels like an "American Beauty" for kids. What initially appealed to you about the script?
Well, I kind of liked that there is it's almost turned into a tragedy. I like the fact that something kind of scary occurred in it; it made it go deeper in its feeling and somehow realistic. You know, things do happen sometimes among young people. And I liked a film for young people that kind of dealt with that, as opposed to something that's maybe very sugary and safe. I like going there; I'm glad everything turns out in the story, but in the process of the story, the kids mature – something happens that makes them think more seriously about life and who they are and what kind of people they want to be. They're not just sort of set pieces, you know? And I also felt that the places they head into also involve the parents and the family in a much deeper way than might otherwise be the case, which I felt was good to see this. It was a balance – it wasn't just what the kids were doing and the parents are sort of putting up with it or coping with it in kind of a superficial way. It pulled everybody into it and I felt it was much more emotionally fulfilling in the long run.
Was there a sense of freedom or responsibility when playing a part where you have an important role but a limited amount of screen time?
I wanted to help these kids work things out for themselves, to find themselves, and it was a limited time, but I felt that the scene was very well written and it gave me a lot of opportunity to do that. The scene in the chapel, there's a lot of little nuances between them and myself, and among themselves, and again, the writing really afforded this to make good choices, and real choices.
Was there more to him that was either in the script or your development of the character that we don't see?
He's a loner essentially. He's taking care of things around there, but he operates alone, and I didn't imagine him as being married and having much of a family life. I figured he lived pretty much alone and whatever kind of circumstances he's made livable for himself, and that he's kind of whimsical at the same time, and he's taken in a lot of life and learned a lot. And I would like to think he has a kind of profound understanding of what life is about, and he has these young people, and he sees them struggling with their own problems at their level, and he wants to give them some sort of direction without being too explicit or authoritarian, but just by way of suggestion, kind of lead them in a direction that could help them in life.
This character is otherwise pretty normal but you've obviously had great success playing eccentric characters. At this point is one easier than the other, or more fun?
I don't know. I get into a character that comes my way, and you've probably heard this before, but whatever character I'm playing at the moment, I get pretty obsessed with it and try to bring it to life in as many ways as I can within the confines of the material. I mean, every time I wrap on the film, whatever the size of the role, or however it was written, if I feel like I've given it something I fell really good about it.
How comfortable are you with that association with those sorts of roles, and how much do you feel like you've been able to explore enough other opportunities so that you don't feel typecast?
Well, I've loved to do the things that I've done, and I know that's work that I've done sort of brings scripts to me that are sort of similar, maybe characters that are similar. I've had those characters come to me that are sort of a reflection of Doc Brown or Reverend Jim, and I'm very happy to play them as long as each time, the character is something different or unique in the first place. I just don't want to repeat what I've already done; on the other hand, I always yearn for, like comics want a dramatic role and dramatic actors want to be comedians.
There's always wanting to do something that you're not normally known for doing. Last summer I had an opportunity to do a play, "Death of a Saleman," playing Willy Loman, and I just relished it because it's just the antithesis of so much else that I've done, goofy characters or way-out characters, and here was somebody who was so real and so demanding in a very dramatic way in a brilliant play. So one way or another, I get the opportunities to do different things.
Will you catch Christopher Lloyd in anything he's in? Speak out below or on Facebook or Twitter.