In this exclusive clip from "The Catechism Cataclysm," a priest walks into a chug party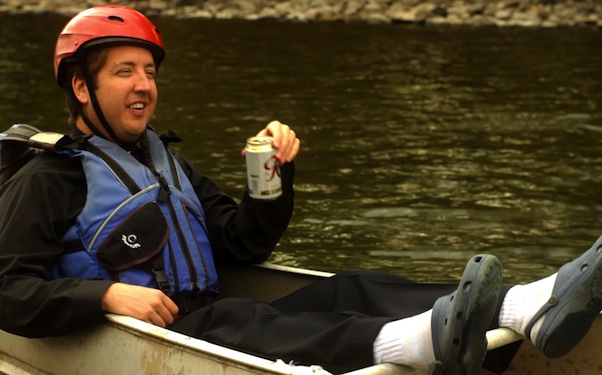 Posted by Matt Singer on
In "The Catechism Cataclysm," "Eastbound and Down"'s Steve Little plays Father Billy, a Catholic priest given some time off by his superiors because of his penchant for inappropriate sermons. He decides to spend his vacation to with with an old acquaintance from high school, Robbie (Robert Longstreet), and together the two set off on a canoe trip. According to the film's official synopsis, "on the water, the two men reminisce about Billy's days as the keyboardist in a Christian band and Robbie's as a guitarist for a metal band. When night approaches, they realize they have lost their way — and that's when things get weird."
Before things get weird, they get funny, as you'll see in this exclusive clip from the film. Watch as our wayward priest tries to chug a beer with less than spectacular results:
video player loading
.
.
.
"The Catechism Cataclysm" — which indieWIRE's Eric Kohn intriguingly described as "'Old Joy' on crack" back at Sundance — comes from writer/director Todd Rohal, who previously brought us the indie flick "The Guatemalan Handshake" and is currently shooting an untitled project with Johnny Knoxville and Patton Oswalt. The IMDb plot description of that film: "Two brothers try to honor their sick dad father by taking a boy scout troupe camping." More camping! Start your auteurist essays now, people.
"The Catechism Cataclysm" opens Wednesday, October 19 at the IFC Center in New York City, and will be available on demand starting on October 26. If you see it, let us know what you think in the comments below or on Facebook and Twitter.