Carrie-Anne Moss discusses her emotional turn with Ryan Reynolds in "Fireflies in the Garden"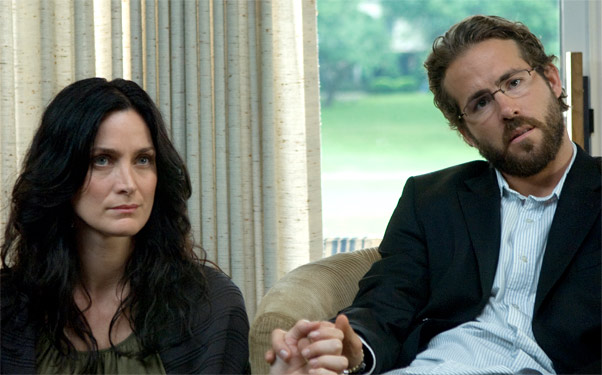 Posted by IFC on
Playing a superwoman is something that Carrie-Anne Moss has always done exceedingly well; her turn as Trinity in "The Matrix" films is third maybe only to Sigourney Weaver in "Aliens" and Linda Hamilton in "Terminator 2" as one of the movies' most formidable female characters. But lately, the actress has stepped away from action-heavy films to tackle a new character, that of being a parent. And evidenced by her turn in "Fireflies in the Garden," it seems like her role in real life has started to be reflected more vividly in the ones she tackles on screen.
In the film Moss plays Kelly, the estranged ex-girlfriend of Ryan Reynolds' Michael Taylor, who steps in to play peacemaker and provide support after his mother dies. Although her role is only a small one in a film filled with plenty of big names, including Reynolds, Julia Roberts and Willem Dafoe, she leaves a memorable impression, particularly after she offers Reynolds' character affection in some particularly unexpected ways – at least for a reunion at a funeral, anyway.
IFC caught up with Moss to talk about her role in "Fireflies in the Garden," which is rolling out in theaters in limited release. In addition to talking about what drew her to the role of Kelly, Moss discussed the challenges of balancing an acting career with the responsibilities of raising a family, and continuing to find opportunities that challenge her without compromising her relationship with her kids.
Is there a sense of freedom or responsibility when you're playing a character with a limited amount of screen time?
I don't know – I don't really look at it like that, I guess. I guess when you're carrying a film, you feel the weight of that, because you're there every day and you feel the weight of your character that way. But I really just loved this script and wanted to be part of it. And at the time that we shot it, there were other scenes that they did that ended up changing the direction of the film. I just loved the story. And I just saw the movie again, I saw the final cut of it the other day, and I thought it really turned out great. And I remember when I was watching why I wanted to do the movie: I remember reading the script and after I finished it, I ran into my kids, who were sleeping, and like smelled them and snuggled them and kissed them. It just made me want to remember how – I mean, I already know this, but just how precious our children are, and how important it is to love them and how important it is to nurture them. And the thought that anyone could be so hard on their child the way that [Willem's] character is so hard on him, it was heartbreaking – it's heartbreaking as a mother. And it just made me want to love my kids even more, and that was the main reason I wanted to do it.
It wasn't because it was, oh, this is the role of a lifetime for me, or I have to play her; it wasn't like that. I loved the movie, and Julia Roberts, I'm such a huge fan of hers, and I always have been. She's a big part of why I became an actor, because I remember seeing her in movies and thinking to myself, wow, I feel similar to her, when I was younger. Like, there's somebody kind of like me in movies – that age, and it just made it feel attainable to me somehow. And her portrayal of that mother in that movie for me when I watched it was really powerful, how much she loves her children and what a great mother she was, and how she couldn't really do anything about how her husband was. There's something about the way she played that that I just loved watching.
When you have these scenes that are so wrought with unspoken tension – and it's supposed to be so long-held – what's the best way to prepare for that? Stay serious and focused or keep it light?
I don't know. I think you do your homework, whatever that looks like, and then ultimately you just let it all go and you just try to be in the moment and listen and try to bring the truth for yourself into it. I don't think there's any formula; sometimes you're laughing, and sometimes you're not, you know? But I don't really know the answer to that. But I know what you mean – but in a way, coming back to your very first question, I guess it is quite freeing in a way because you could play it really anyway, couldn't you? You're not connecting it to anything that's happened for the audience.
Was any of Kelly's back story worked out beforehand, even if it's not going to be explained or explored in the film?
Well, [director] Dennis [Lee] talked to me about it, about her, and what he was looking for, and then I made my own things to complement that. But ultimately I think you throw it all away, you do that stuff and then you try not to be in your head when it actually comes time to shoot.
Given that your character shares a complicated history with Ryan's, and you show up at this particularly tense time during a funeral, how do you make sure all of those levels are there, but you're not necessarily addressing it directly?
Well, I think right there, just the logistics create that tension: it's a funeral, it's obvious that his wife, who he's having difficulty with, we've figured that out as an audience, right? But those things are there already, so I don't think that for me as an actress it's difficult. It's sort of built-in in a way, if that makes sense. And I personally love things not being said – I hate where everything's written out so clearly so that everything connects so everyone knows. Life is not like that; when is life ever like that? So I really loved that scene and the way that it was written, that it didn't answer all of the questions, you know? You understood that it was complicated, and that you didn't necessarily know why. I love that, and I think sometimes we're forced to spell things out too much for the audience.
Was there a lot more material in the script, or maybe in other footage you shot, that didn't make it into the film?
Yeah, there originally was [a plot line] that she was pregnant, and that's revealed near the end of the film – and she was struggling with how to tell him and all of that. And actually having a child when she's had this life that's been quite destructive for herself. But ultimately it didn't really need to be in the film, so I think they made the right decision not having it; it wasn't that it was bad, it was that the way the direction of the movie went, it wasn't needed, I think. But I'm not the editor, I'm not the director, so I don't know.
You mentioned how this movie wanted you to go be with your kids. How difficult is it to find roles that you really want to throw yourself into, and juggle your family life?
I didn't want to spend more time with my kids because until then, I'd pretty much been a stay-at-home mom who hadn't been working at all. It was more just wanting to just love them, to just breathe them in, because this goes by so quick, you know? Having children, as everyone says, they grow up so quickly. But I think it's a pretty impossible balancing act – I think it's impossible to balance it. But I think at certain times, something has to take priority, and for me, my children take priority most of the time. And when I am working, my husband takes that priority, and someone comes and helps us take that energy. But I think it's a difficult thing that everybody has to have, being a mom and working, because it's hard. Because little kids need their mom, so I think I've figured out what works for me, and I'm starting to work more now as my children are getting older. But I still have a little, little child, and I still bring her with me – but it's hard. It's certainly there's no one way to do it, that's for sure.
Do you have a specific criteria for the roles you're looking for now?
I don't know. I just know when I read something if it's something that I want to do. I did a movie a few years ago with Sam Jackson and I was in every scene, and I hadn't done that since I had kids. I think it was a month I shot that in, and it was really a big deal for me to do that, but I really wanted to do it, and it was a great experience. But when I read I read something and it's like I'm carrying something, I have to look at where I'm at with my family, where everyone's at – is it something that I really want to play? Is it something that I think I would be good in? Is it something I want to explore? Where does it shoot? All of those little things that when you don't have a family, you don't have to think about. When I first had kids, I had a suitcase under my bed that I didn't even put away, and I was excited about going to all of these new places all of the time. And I still do love to do it – I just got back from being away when I did a movie in Toronto, and I was there for a week – and there's a season for everything, I think, and I think I'm in the season of shorter things that four-five month things.
Will you be checking out Carrie-Anne Moss in "Fireflies in the Garden"? Let us know below or on Facebook or Twitter.