"Captain America" writers talk "Avengers" trailer and taking cues from Joss Whedon for "Cap" sequel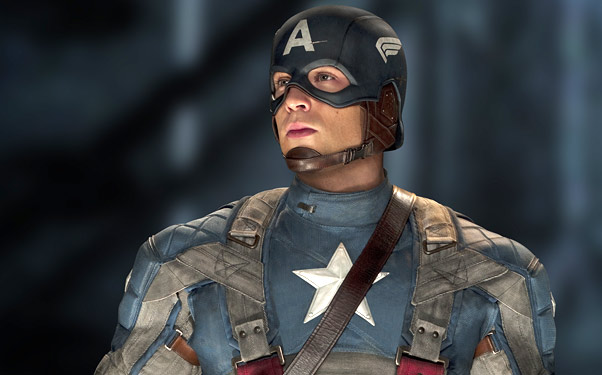 Posted by Rick Marshall on
With the recent debut of the "Avengers" trailer, the timing couldn't be better for "Captain America: The First Avenger" to arrive on shelves next week. Marvel's upcoming team-up film directed by Joss Whedon will feature soldier-turned-superhero Steve Rogers in a prominent role – possibly as the team's leader – alongside fellow heroes Iron Man, Hulk, Thor, and the rest of Marvel's movie-verse stars.
IFC spoke with "Captain America" writers Christopher Markus and Stephen McFeely about the October 25 release of the film on DVD and Blu-ray, and got an update on their script for the sequel, as well as their thoughts on seeing Steve Rogers back on the screen in the first "Avengers" footage.
"It's exciting, because at least from the scene where he says something about Tony Stark underneath his armor, you can tell he's still 1940s Steve Rogers," said Markus of Cap's return in the "Avengers" trailer. "He hasn't become gum-chewing, wise-cracking, internet guy – so I'm glad we started him off in a sufficiently character-driven way that now we can pop him into the present and it will serve him as a character. He doesn't just vanish into the woodwork."
Still, with "Avengers" slated to be the next appearance of Chris Evans as Steve Rogers and Marvel targeting a 2014 release for the "Captain America" sequel, the writers said the dynamic between themselves and Whedon (who co-wrote the "Avengers" script) has been turned on its head.
Where Whedon and the "Avengers" creative team once consulted the duo's "Captain America" script in order to shape the character's role in the big team-up event, now Markus and McFeely find themselves drawing from the events of "Avengers" for their next adventure featuring the iconic supersoldier.
"Yeah, it's going the other way around now," explained McFeely. "We needed to read Joss' 'Avengers' before we could go on and do 'Captain America 2.' We needed to see if he did anything different, character-wise – and he hadn't, he's an excellent writer – but we also needed to see what he had done in terms of Steve poking around the modern day and dealing with it."
According to McFeely, the pair recently turned in a completed outline of the "Captain America" sequel to Marvel, and is now waiting to hear back from the studio. And as one might expect, getting them to reveal any juicy details about the plot of the film is a tough sell.
"Marvel has made it very clear that we can't say anything or they will murder us," laughed McFeely.
"But maybe they're bluffing," joked Markus, only to have McFeely reiterate that any details related to the sequel – even the time period when it's set – are as secret as the formula for the super-soldier serum that gave Captain America his powers.
Still, when asked whether the look at Steve Rogers in "Avengers" and the final, modern-day scene of "Captain America" had them itching to do more with the character in a present-day setting, the pair offered up some interesting thoughts about the pros and cons and bad of doing another period piece with Cap.
"So much of Captain America's adventures occur in the present day, so there are a lot of things I'd like to touch on," said Markus. "That said, we did leave the center section of 'Captain America' baggy enough to let him have adventures you didn't see [in the first film]. So, we kind of have enough room to play with [for the sequel]."
"Still, if he had another adventure entirely set in World War II, the stakes are kind of lessened," added McFeely, "because you know he survives and you know what happens to Bucky and you know the Howling Commandos survive long enough to have a toast in a bar."
"You know Cap wins and you know that whoever he was fighting didn't destroy the world, because you've already seen things that happen after it," agreed Markus. "So the stakes are, well… But then again, did that bother anyone with the second 'Indiana Jones' movie?"
As for the rumors that we'll see more of the Howling Commandos in either the "Captain America" sequel or their own movie, the pair were similarly noncommittal – and even a little cryptic – about our chances of seeing Dum Dum Dugan, Gabe Jones, Montgomery Falsworth, and the rest of the movie-version of the WWII squad again.
"They're certainly cool, and in a different movie, we would've certainly had a little more 'Kelly Heroes' or 'Magnificent Seven' thing going on," said McFeely of why the squad didn't receive more screen time in "Captain America."
"It would've been like 'Inglourious Commandos,'" joked Markus.
"Personally, I'm a big fan of that type of movie – the ne'er-do-wells banding together to fight a common cause," continued McFeely, adding, "so I'm open to it, but… well… I'll just say I'm open to it."
"Captain America: The First Avenger" arrives on DVD and Blu-Ray Tuesday, October 25. Come back to IFC.com next week for more from Christopher Markus and Stephen McFeely on the comic book characters that didn't make the final cut of the film, and the story behind one of the coolest comics call-outs in the film.