"Captain America" writers reveal the movie's deleted characters and the real story behind Arnim Zola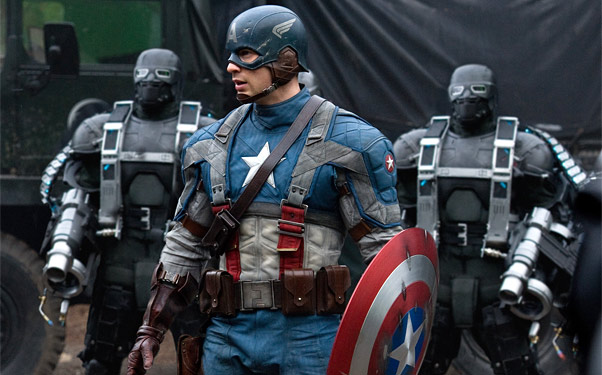 Posted by Rick Marshall on
"Captain America: The First Avenger" arrives on shelves this week, offering fans the opportunity to add Chris Evans' debut as solder-turned-superhero Steve Rogers to their DVD and Blu-ray libraries.
IFC spoke with "The First Avenger" writers Christopher Markus and Stephen McFeely last week to get an update on the status of their "Captain America" sequel and their thoughts on seeing Evans join the rest of Marvel's movie-verse heroes in the first trailer for "The Avengers." Of course, we also spent some time talking "Captain America" with the duo, who had quite a bit to say about their experience scripting Steve Rogers' big-screen origin story, and told us about some of the elements that didn't make the film's final cut.
"I think by virtue of it being a period piece, it was going to stand out – for better or worse – in the Marvel movie canon," said Markus of the film's unique place in the lineup of Marvel movies leading up to "The Avengers." "It was not going to be a jazzy, high-tech 'Iron Man.' It was going to have its own tone."
"In a weird way, I think it's a triumph of sincerity," he laughed. "I think the movie is genuine to itself and to the character. This is not a guy who is rabidly wisecracking his way through this adventure. He actually cares, and I think that translates to the movie as a whole. It doesn't undercut itself."
For McFeely, what set "Captain America" apart from its peers also included the unique architecture of the story, given the character's history as a World War II hero who eventually finds himself in the modern-day world.
"We knew he had to go down in the Arctic at the end of the movie, so if you start with a premise that your main character is essentially going to die at the end, there's a certain noble sacrifice you're leading to the whole time," he explained. "Not all movies get to do that."
"Usually if you spend all this money, you're going to have to have a sequel and you can't really kill him at the end," he continued. "So we had a structure, even though we don't technically kill him, and we knew that was going to happen. You're creating this noble sacrifice in the third act that I think tugs at people. I hope it does."
Asked which scenes from the film best encapsulated their vision for the character brought to life on the screen, the pair called out two very different moments from "The First Avenger."
"I like the whole U.S.O. sequence, in that it's the kind of thing that could've easily been cut – not on a storytelling level, but more like 'Do we really want to have this deliberately cheesy song and dance number in the middle of the superhero movie?'" said Markus. "But I think it kind of gets to the heart of where the character comes from and the time he exists in… and explains the costume in a nice, easy way."
"I would say the end of the World War II story – the whole plane scene," said McFeely. "The radio conversation is basically word-for-word form the first outline, let alone the first draft. Even if the outline took a few changes early on, it always got back to there, and everyone felt like that scene was going to kill if we got it right."
Still, not everything that was in the early drafts of the film ended up in the final cut. While almost everything that was shot found its way to theaters, Markus hinted that some of the elements that were eventually excised from the film could become fodder for the sequel.
"There wasn't a sequence with Master Man (one of Captain America's classic villains) that ended up on the cutting room floor or anything," laughed Markus. "But there was an endless array of scenes we could've drawn from, and may draw from in the future. I'm not being cryptic when I say that, either – I'm just being a comic book geek. For example, some day, whether it be in an 'Iron Man' movie or a 'Captain America' movie or any other Marvel movie, I want to see M.O.D.O.K. float down the hall."
For those who aren't familiar with Captain America's rogues gallery, M.O.D.O.K. (Mental Organism Designed Only for Killing) is a recurring villain whose appearance is that of a gigantic head encased in a cybernetic suit with miniature arms and legs and rockets that propel it around. The character is a fan-favorite nemesis for Steve Rogers that debuted in a 1967 issue of Tales of Suspense and was created by Jack Kirby and Stan Lee.
Asked whether M.O.D.O.K. really is the character they're most looking forward to seeing on the big screen, the pair couldn't be more enthusiastic about the giant, floating head facing off against the iconic supersoldier.
"Yeah, I'm voting M.O.D.O.K.," laughed Markus.
"You know what? 'Vote M.O.D.O.K.' is a t-shirt I would wear," agreed McFeely.
However, while M.O.D.O.K. was never actually included in their original "Captain America" script, there were a few classic villains that were planned for the first film, only to be removed in subsequent drafts. The pair previously revealed that evil despot Baron Zemo was in an early draft, but he wasn't the only sinister side character in those versions of the script.
"Baron Strucker was in there for a while, but he wasn't doing enough to justify wasting him in the film," said McFeely. "We certainly tried things, and ended up settling on the more useful Red Skull and Arnim Zola."
"But they're all still on the table," he teased.
Finally, the pair offered up some insight regarding one particular character who did make the cut, and was introduced in a nice tip of the hat to his incarnation in the comics world.
In the comics world, Captain America villain Arnim Zola often appears as a large, humanoid robot with a large monitor in his chest that depicts Zola's face. In the film, actor Toby Jones plays Arnim Zola, who is first seen in the film staring through a large lens – a nice nod to his comics counterpart.
"That was in the first draft, too," said McFeely of the comics-friendly angle to Zola's introduction. "As soon as we knew it was going to be Zola, we wanted to make sure his intro was on a screen like that."
"We wanted to tip our hat to his later incarnation without including it in the film, because when you have a guy with a red skull for a head who's supposed to be the most horrifying thing in the story, you can't have a robot man walking around," laughed Markus. "So yeah, Zola had to be a person in this movie."
"Captain America: The First Avenger" arrives on DVD and Blu-Ray this Tuesday, October 25.
What do you think of the "Captain America" writers' comments regarding the characters that did or didn't make the cut? Chime in below or on Facebook or Twitter.