Cameron Crowe's favorite musical moments in film history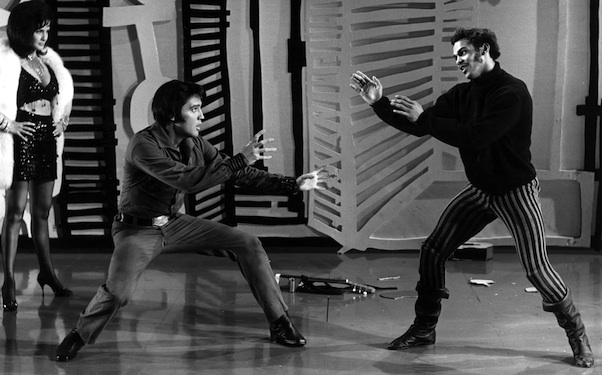 Posted by Matt Singer on
As a former rock and roll writer for Rolling Stone and current director of music-centric movies like "Almost Famous" and "Singles," Cameron Crowe is uniquely qualified to put together a list of the best uses in music in film history. When Empire asked him to do exactly that a few months ago, he didn't disappoint. His picks, republished on the inaccurately titled official Crowe site The Uncool, are as superb as they are exhaustive: asked to pick ten best, Crowe dropped 36 favorites. I knew the Crowe character in "Almost Famous" was thorough, but c'mon: that's just ridiculous.
His choices are a smart mix of widely acclaimed classics and clever obscurities. Harry Nilsson's "Everybody's Talking" from 1969's "Midnight Cowboy"ranks at #7, as well it should, but it clocks in just ahead of a movie and a scene I'd never even heard of before today: Elvis Presley's psychedlic musical number "Edge of Reality" from 1968's "Live a Little, Love A Little." Crowe says the sheer churn of three movies a year began to wear down Presley by the late '60s, but that "Elvis' weariness and unpreparedness sometimes created seismically funny and unintentionally profound sequences like this one. Turn it up and groove out to E's only true foray into psychedelia." Here's the clip from YouTube, decide for yourself.
Wowsers. As for Crowe's number one pick for best film music moment of all time, here it is (for the full list, be sure to hit up The Uncool):
1. "Don't Be Shy" (Cat Stevens)

"Harold and Maude" (1971)

Is there a better movie opening? Ashby could fill all ten spots on this list, such is his skillful music lovers touch, but this is perhaps his best song usage ever. "Don't Be Shy" kicks off "Harold and Maude" with spare perfection and an intoxicating invitation to the movie to come. We meet Harold and he's about to hang himself. It's a comedy like no other, and the combination of this song and that scene makes for a soul-scratching introduction. Soon we're rooting for a love story between and 18 year old Harold and a 79 year-old Maude. And it all begins with "Don't Be Shy."
Did Crowe hit all my favorite movie music moments? Not even close; he's missing "As Time Goes By," from "Casablanca," the opening credits to "Jackie Brown," and the jubilant final concert in "The Blues Brothers." But I like what Crowe had to say about making and interpreting top ten lists:
"The first thing to remember about any top ten list is that it is not to be trusted. A top ten list is almost invariably subject to the whims of the day. You could be feeling sentimental or melancholy, and suddenly your top ten is a weepy diary of your feelings on the unfortunate day you made the list. Or you could be feeling militant about some obscure band or movie, only to later see your proclamation in print, and wonder – how could I have called (insert mediocre artist) a great visionary?"
In other words, making a top ten is sort of like making a mix tape: a deeply personal and totally subjective act. In other other words, stop leaving me mean Internet comments.
What's your favorite movie music moment of all time? Tell us (ever so nicely) in the comments below or on Facebook and Twitter.
[H/T Ray Pride at Movie City News]