Countdown to Top Ten 2K11: "Bill Cunningham New York"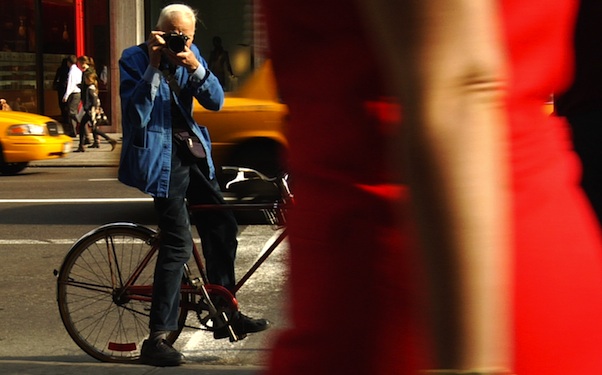 Posted by Matt Singer on
Countdown to Top Ten 2K11 is a column with one simple goal: to help you decide what films you need to see before making your end of the year top ten list. Each installment features my thoughts on a critically acclaimed 2011 movie, a sampling of other critics' reactions, the odds of the film making my own list, and the reasons why it might make yours.
This week, we're covering one of the best reviewed movies of the year. Yesterday it earned a Gotham Award nomination for Best Documentary. Did it deserve it? Let's find out.
Movie: "Bill Cunningham New York"

Director: Richard Press

Rotten Tomatoes Score: 98%

Plot Synopsis: A look at the life and career of photographer Bill Cunningham, whose two regular columns in The New York Times have helped define the discourse of the fashion industry for decades.
What the Critics Said: "Made me happy every moment I was watching it," Roger Ebert, Chicago Sun-Times
"A delightful documentary," Bill Goodykoontz, Arizona Republic
"A celebration of individualism, integrity, fashion, and passion," Steven Rea, Philadelphia Inquirer

Were They Right? Absolutely. There's no greater honor you can bestow upon an artist than making a work of art about them, and that's exactly what director Richard Press did with this film. It's one of the best documentaries I've seen in 2011.
President John Kennedy once described the life of an artist as "stern and lonely. He has labored hard, often amid deprivation, to perfect his skill." Bill Cunningham lives his life like a man who took those words very seriously. For years, Cunningham lived alone in a tiny apartment in Carnegie Hall. A small bed on the floor belonged to him. The rest of the space was owned by his work: dozens of file cabinets, hundreds of books, and thousands of photographs. Cunningham has very few friends and fewer familial entanglements. He abhors money almost as much as he hates free time. He has spent his entire life thinking about fashion and putting those thoughts into words and images that he shares with his readers in the Times. On the basis of this film, it would seem to be a life well spent.
Press reveals the secrets of the 80-year-old Cunningham's longevity in the youthful word of fashion: a relentless work ethic and an endlessly upbeat outlook. A melancholic interview late in the film about Cunningham's personal life reveals some unacknowledged — maybe even unrealized — regrets. But the pleasures of the job far outweigh the burdens and Press shows enough of Cunningham's photography to make it clear the man isn't simply enjoying his work, he's excelling at it. Cunningham devotes his "On the Street" column to celebrating the beauty and style of regular folks he sees while riding his bicycle around Manhattan. Press' documentary essentially does the same thing. It points a camera at a subject that rarely gets much attention and discovers extraordinary hidden beauty.
Worthy of Oscar Nominations For: Best Documentary
Chances of Making My Top Ten: Not great. Chances of making my top twenty: almost guaranteed.

It Might Make Your Top Ten List If: you're a fan of documentaries about the practical side of genius; if your two passions in life are women's shoes and bicycles.
"Bill Cunningham New York" is now available on DVD as well as on Netflix Watch Instantly and Amazon Instant Video. Tell us what you think about the film in the comments below or on Facebook and Twitter.


Previously in Countdown to Top Ten 2K11
"Hanna," directed by Joe Wright