Are these the 25 best horror films of the Aughts?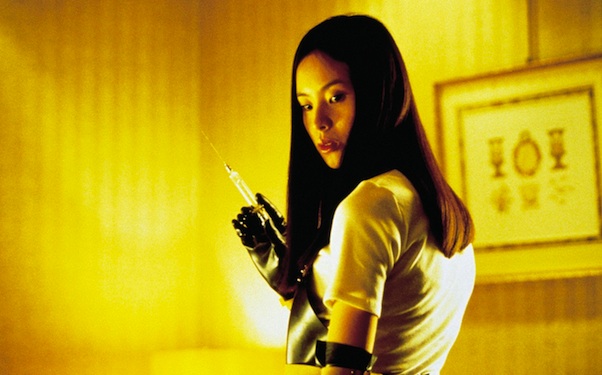 Posted by Matt Singer on
It's the last week of October which means one thing: Halloween-related movie features! The fine folks at Slant Magazine posted a big'un yesterday, "The 25 Best Horror Films of the Aughts." You've got to go to to their site to see the whole list, obviously, but here's their Top 5.
1. "Pulse" (2001, Kiyoshi Kurosawa)

2. "Inland Empire" (2006, David Lynch)

3. "Inside" (2007, Alexandre Bustillo and Julien Maury)

4. "Audition" (2001, Takashi Miike)

5. "Martyrs" (2008, Pascal Laugier)
It's a very interesting list with some very strong writing, a welcome and all-too-rare sight in this sort of article. I haven't seen every movie that made the cut, including two in the top five (numbers five and three, if you're curious), so I can't knock all of Slant's choices. And even if I had and therefore I could, this sort of thing is totally subjective. And, really, that's what you want from this sort of list. You want to see what a site like Slant thinks are the best horror films of the aughts. Another site might (and probably would) have a very different list. Which is great. But you know there's a but coming, right?
(Hold on, it's coming.)
BUT!!! As a film nerd, I can't resist the urge to gripe and nitpick. And why would you want me to? If all I had to say was "Boy, this is a perfect list, I can't complain with anything, kudos to you and yours Slant!" this wouldn't be much of a blog post, now would it?
Though I'm all for an expansive definition of horror — and I'm very glad Slant's list has plenty of international representation — they may have cast too wide a net with their picks. Is "A History of Violence" (#20) a horror film? More like a mystery/thrillery to me. Is "Inland Empire" (#2) a horror film? Yeah, I guess, sort of. But despite "Inland Empire"'s awesomeness as a film, is it really the second best pure, make-the-hairs-on-the-back-of-your-neck-stand-straight-up horror film of the last eleven years? Mrm, not so much. If you're going to open up the genre that far, there's other, better, scarier movies that also qualify. What about "Dogtooth?" Or "Snow Angels?" Or "I Saw the Devil?" Or, for that matter, a whole mess of amazing (and amazingly disturbing) Korean revenge movies?
There are some other quibbles I have that boil down to matters of taste. "28 Weeks Later" (#15) makes the cut but "28 Days Later" doesn't? "Halloween II" (#6) makes the top ten ahead of Zombie's own (and in my mind vastly superior film) "The Devil's Rejects" (#9)? And there are plenty of deserving movies that didn't make the cut. As a sort of counter-list, here's what I consider five worst omissions:
5. "Slither" (2006, James Gunn)
One of the ooiest-gooiest horror movies of the Aughts, with an appropriately jaundiced view of small-town America and an amazingly emotive monster, played by the great character actor Michael Rooker. You will feel for him, you will be revolted by him.
4. "Paranormal Activity" (2007, Oren Peli)
Popular? Sure, but rightfully so. It's found footage horror — a subgenre that's glutted the horror market this decade — done perfectly. "Paranormal Activity" is a very scary movie and I suspect it's one of the handful of movies from the Aughts that people are still going to be watching in the 2050s.
3. "Shaun of the Dead" (2004, Edgar Wright)
If Slant has room for horror comedies — and they obviously do, since they included Sam Raimi's wonderful 2009 film "Drag Me to Hell" at #24 — then they should have found room for the single most iconic horror comedy of the last decade, Edgar Wright's "Shaun of the Dead." Legitimately funny, but even more legitimately scary in the late scenes where the gang is holed up in the pub surrounded by zombies.
2. "The Host" (2006, Bong Joon-ho)
Can't figure out how this one slipped through this list. Slant's (and occasionally our own) Nick Schager gave the film three and a half out of four stars when the movie opened back in 2006. I haven't seen it in five years, so it's not the freshest film in my mind but what's stuck with me is the intensity of the connection Bong creates between the characters and the audience, and the way he milks that bond for white-knuckle suspense and scream-loosening scares. Maybe the guys in charge thought it was too sci-fi.
1. "Pan's Labyrinth" (2006, Guillermo del Toro)
Weird that Slant went out of its way to credit del Toro for the success of their #25 film, "The Orphanage" — which is, don't get me wrong, a reasonably spooky haunted house movie — and didn't find a spot for del Toro's millennial masterpiece of fantasy horror, "Pan's Labyrinth." It's a far more beautiful and far more unsettling representation of del Toro's favorite themes.
What's the best horror movie of the aughts? What great movie got left off Slant's list? Tell us in the comments below or on Facebook and Twitter.