A monster interview with the star of "Being Elmo"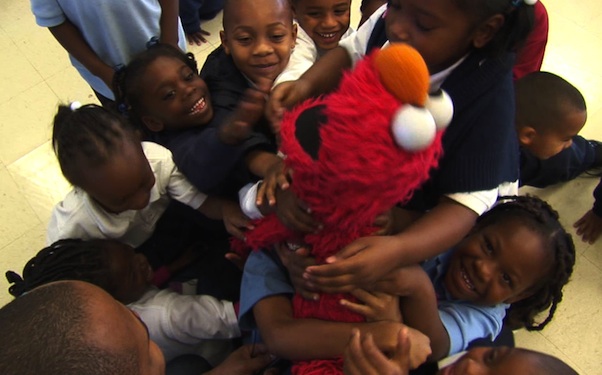 Posted by Matt Singer on
We had a lot of celebrities come through the IFC Crossroads House at South by Southwest, but only one was so popular that their mere presence caused a spontaneous reception line of fans dying to get their picture taken with them. That would be Elmo, everyone's favorite red monster from "Sesame Street." The effect this little Muppet has on people is remarkable: I watched grown men — we're talking gruff dudes with tattoos and beards — turn into squealing children in his presence. The IFC crew was giddy for days.
I'll be honest: I was pretty starstruck too. I'm a child of "Sesame Street" myself, and though Elmo really came to prominence after my time watching the show, he was right in my younger brother's wheelhouse. So getting to watch him come to life before my eyes was one of the coolest experiences I've ever had on this job (on the other hand, getting to watch him sit lifelessly inside a plastic bag before the interview, like someone had asphyxiated the poor guy in mid-giggle, was one of the creepiest).
The man who brings Elmo to life is Kevin Clash, the incredibly warm and talented performer who is the subject of the new movie "Being Elmo: A Puppeteer's Journey." This documentary from filmmaker Constance Marks tells Clash's story, from his childhood dreams of puppeteering to his incredible work defining one of the signature Muppets. Here's my South By interview with Clash and Marks, followed by my interview with Elmo.
Months later, I'm still eating off that part where Elmo says he loves my wife. God bless that monster.
"Being Elmo" opens this Friday at the IFC Center in New York City with a full national rollout to follow. And take note "Sesame Street" fans: Clash and a "special guest" will be in attendance in New York this Saturday and Sunday at the 12:35, 2:25 & 4:15 PM shows. Expect a long line for pictures.
Who's your favorite Muppet? Tell us in the comments below or on Facebook and Twitter.