New "Avengers" still shows Chris Evans and Chris Hemsworth looking stunned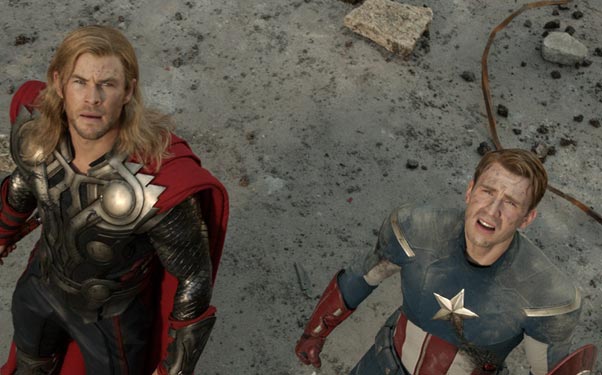 Posted by Terri Schwartz on
Earth's mightiest heroes are looking a bit confused in the latest official still from "The Avengers." Captain America and Thor are probably wondering why they're the only superheroes in the photo instead of an ensemble photo showing off Iron Man, The Hulk, Black Widow and Hawkeye, but that's a question only Marvel can answer.
SuperHeroHype posted the image, which looks like it comes from the battle sequence that has been filming in Cleveland. Fans have already had a look at Captain America's new suit and shield and Thor's outfit and hammer, but it's nice to see a glossy new official image from the movie.
Also released today was a new behind-the-scenes photo featuring Scarlett Johansson in her Black Widow get-up being directed by Joss Whedon. The image looks like its been taken from the ensemble scene shown in the "Avengers" teaser at the end of "Captain America: The First Avenger."
This deluge of "The Avengers" official promotional material likely means one thing: a trailer will soon be on its way. With "The Avengers" due out on July 20 — aka seven and a half months away — it seems like the ripe time for some semblance of a teaser trailer to be released. So far all that has been released was the very minimalistic Comic-Con teaser trailer and the short sneak peek at the end of "Captain America."
Do you think we can expect a "The Avengers" trailer soon? What do you think of these new photos? Tell us in the comments section below or on Facebook and Twitter.