Exclusive: "Attack the Block" gets eyed for television spin-off and American remake, plus what the sequel could look like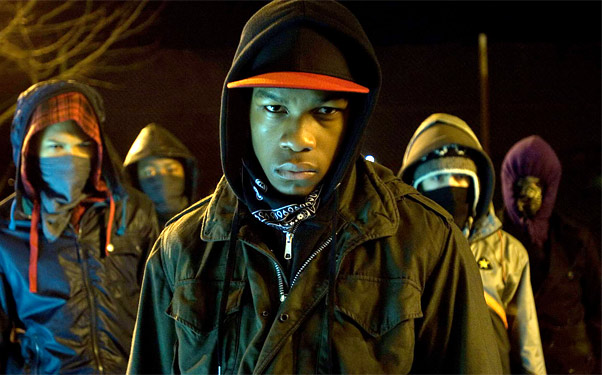 Posted by Brian Jacks on
Ever since the heavily acclaimed "Attack the Block" hit theaters earlier this year, the main question on the minds of fans was simply, "Are we going to see another one?" Well, now we have slightly more of an answer. Director Joe Cornish has confirmed to IFC News that several options for the franchise are now on the table, including a sequel, a television series and an American remake.
"Attack the Block" — produced by "Shaun of the Dead" helmer Edgar Wright — finds a gang of inner-city London youth suddenly embroiled in an interstellar conflict as dozens of snarling, ape-like aliens crash land around their hood. The movie was hailed as a breakout indie hit, breathing fresh air into the overexposed alien attack genre and igniting a love affair with fans.
At the San Diego Comic-Con this past summer, director Joe Cornish mentioned that Wright had proposed a sequel idea but wouldn't divulge any more than that. Cornish is still tight-lipped on what that suggestion was, but in an interview with IFC at New York Comic Con promoting the October 25th DVD and Blu-ray release, he was more willing to reveal a sequel idea from his newcomer star John Boyega, who plays the teenage group leader and chief monster-killer Moses.
video player loading
.
.
.
"[He] keeps coming up with amazing ideas," says Cornish of Boyega. "He has this image of a bigger alien attack on London, as if the attack we saw in 'Attack the Block' was just the [first] wave and there's another wave of bigger creatures. And he described to me this image of Moses leading a whole army of hood kids across the Thames, next to the houses of Parliament."
"No, his image was even better," Cornish continued. "He had an image of Moses on a police horse. You know the police in London who have those horses they use in riots…somehow Moses has got onto one of those horses. So he's on a horse leading this army of South London kids across the river to take on this bigger wave of aliens. So yeah it's really fun to think of stuff like that and what we could do."
Apart from cast suggestions on what a sequel could look like, Cornish also divulged that other possible adaptations are in very early discussions. "We've had approaches for a remake and a sequel. We've had approaches for a TV show to spin off it. But it's very early days, you know. So it's not out of the question but very early days, and I'd certainly like to do something different for my next thing if I get a chance to do a next thing."
What would you like to see from an "Attack the Block" sequel? Would you be up for an American remake? Speak your mind below or on Facebook or Twitter.