"Attack the Block" director Joe Cornish says an American remake "could be quite cool"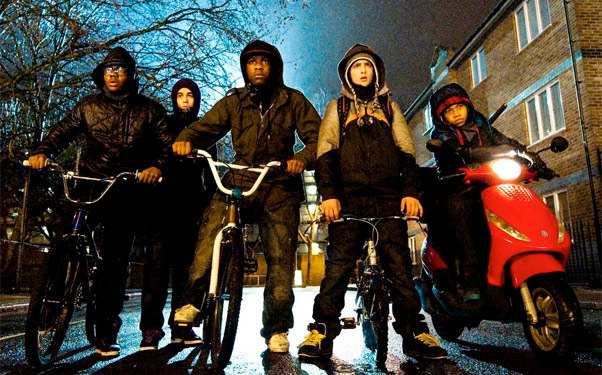 Posted by Brian Jacks on
Last Friday, we revealed that "Attack the Block" — the wildly enjoyable alien attack flick hailed in genre circles as one of the year's best releases — was being eyed for all sorts of things: among them a sequel, a television series and an American remake. Understandably, of course, it's that last item which tends to raise the most alarm among fans, who nervously wonder if the Hollywood machine would strip away everything that makes the original so fresh and compelling. But while many count themselves as doubters, the film's director Joe Cornish is cautiously more optimistic.
"Attack the Block" finds a group of inner-city London youth who suddenly find themselves fending off an attack by snarling extraterrestrial creatures. The story is focused on the raging battles, of course, but the material also carries a heavy undercurrent of social issues. It's the authenticity of the script and particularly of the three-dimensional characters that has been a driving force behind the universal acclaim, and it's that honesty that would have to be replicated to make a Hollywood adaptation as successful as the original.
For Cornish, there's one American product in particular that encompasses all those values, and which subsequently gives him hope that Tinseltown may be able to pull off a remake: HBO's "The Wire."
video player loading
.
.
.
"A lot of people compared the film to Series 4 of 'The Wire' — the one with all the corner boys and the kids," Cornish told us while promoting the film's October 25th DVD and Blu-ray release. "And that's obviously very flattering comparison and that's an amazing series and 'Attack the Block' is very different. But when people say that I fantasize what that would be like, and I think it could be quite cool. My only thing would be to make it with integrity."
Like those behind the HBO series, Cornish worked hard to accurately portray his characters and the lives they inhabit and considers that determination crucial to the film. "We worked very hard in 'Attack the Block' to include the young actors and we did a lot of research and tried to get the language right and the details of the real world right," explained Cornish.
But when all's said and done, Cornish is realistic that an American remake of "Attack the Block" could go either way, and he's leaving an open mind. "I don't rule anything out really. Movie history is full of bad sequels and good sequels and bad remakes and good remakes. 'Aliens' is an incredible sequel. I remember seeing that as a kid and thinking there's no way they could get better than 'Alien.' And then watching it and going 'Fuck, this is incredible.' so anything's possible."
Tell us your own thoughts of an American remake of "Attack the Block" below, or on Facebook or Twitter.