"Assassin's Creed" gets tapped by Hollywood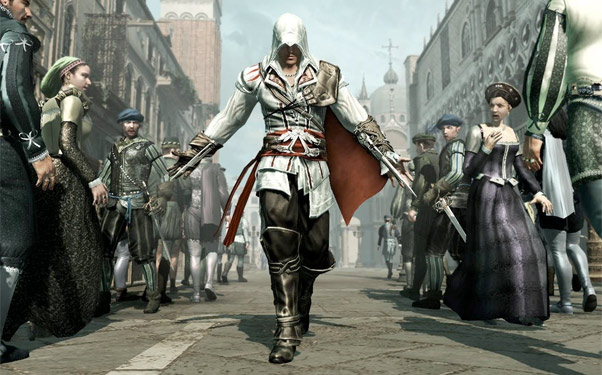 Posted by Brian Jacks on
Video game movies haven't exactly fared well at the box office, but that isn't stopping Sony from trying. After what's described by Variety as a lengthy bidding war, the studio has secured the rights to develop a feature film based on UbiSoft's uber-popular "Assassin's Creed" franchise.
The biggest surprise isn't the deal itself, but that it took this long for Hollywood to come calling. With three primary titles already released and a fourth coming in November, the "Assassin's" line has been a cash cow for the gaming company, with over 30 million copies sold since its 2007 debut. Given its success, it's not a surprise that Sony is reportedly eying its new acquisition as a major tentpole release.
All four games follow Desmond Miles, who initially finds himself kidnapped by an evil corporation and is subsequently forced to relive the memories of his assassin ancestors in hopes of locating a series of relics which could control the world. The games span centuries and locations, ranging from Jerusalem during the Crusades to Florence and Rome during the Italian Renaissance. The latest title, "Assassin's Creed: Revelations," transports players to 16th century Constantinople.
The games are known for their heavy reliance on free-roaming parkour, meaning the character races through streets, climbs up buildings and jumps across rooftops without slowing down. Assassinations play a key role in the stories, with the player quietly stalking his victims and taking them out with a variety of attacks and from a number of varying angles.
"Assassin's Creed" is just one of a few titles that UbiSoft hopes to bring to Hollywood. "Tom Clancy's Splinter Cell" and "Tom Clancy's Ghost Recon" are also on the menu.
Are you interested to see what a movie version of "Assassin's Creed" would look like? Let us know below or on Facebook or Twitter.