Development on "Arrested Development" movie slightly less arrested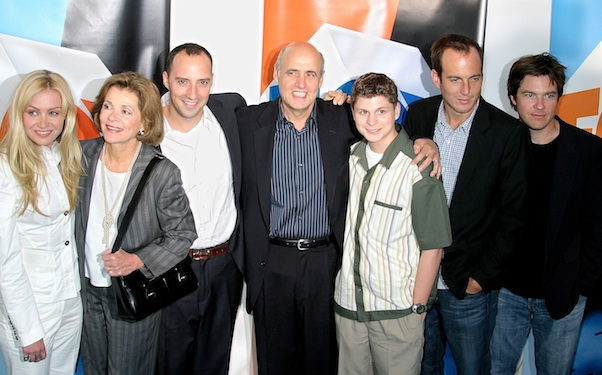 Posted by Matt Singer on
The folks who made "Arrested Development" have no one to blame but themselves. They're the ones who closed their series finale with one of the characters pitching the idea of a television series that sounded suspiciously like "Arrested Development," then had series narrator and executive producer Ron Howard, playing himself, going "No, but maybe a movie." From that day forward, all anyone could talk about in interviews with "Arrested Development" alumni was the possibility of an "Arrested Development" movie. We've talked about it here, and here, and only about a gabillion other places.
So series creator Mitchell Hurwitz was at The New Yorker Festival on Sunday: what are the odds he talked about the "Arrested Development" movie? Pretty freaking good, obviously. But according to The New York Times' Dave Itzkoff, Hurwitz dropped some actual news about an actual movie actually happening. Actually. Plus, a legit bombshell: "Arrested Development" may also return to television.
From Itzkoff's report, here's what Hurwitz told the New Yorker audience:
"We don't completely own the property, there are business people involved and studios and that kind of thing. Just creatively, I have been working on the screenplay for a long time and found that as time went by, there was so much more to the story. In fact, where everyone's been for five years became a big part of the story. So in working on the screenplay, I found even if I just gave five minutes per character to that back story, we were halfway through the movie before the characters got together… [Instead] we're trying to do a limited-run series into the movie… We're basically hoping to do 9 or 10 episodes, with almost one character per episode."
Hurwitz said they want to film everything, the new series and the movie, next summer with releases planned for 2013. But don't go breaking out the celebratory frozen bananas just yet: there's still plenty of corporate hurdles to clear — synergizing a TV network to air a series in concert with a film studio and a movie, presents some logistical hurdles that still need to be cleared. And apparently all negotiations on Hurwitz's end are being handled by Bob Loblaw, so it could all fall apart any moment.
I kid because I hosted "Arrested Development" Live on IFC.com and I have the entire series lodged in my brain and I might as well use it somehow. Though I've long since developed an immunity to feeling excitement about the possibility of an "Arrested Development" movie — I'll believe it when I see the nevernude jorts — it sounds like the development of this movie (and new TV show!) is actually getting a little less arrested.
Do you think the "Arrested Development" movie will ever happen? Tell us in the comments below or on Facebook and Twitter.