"American Reunion" trailer has a red band (camp)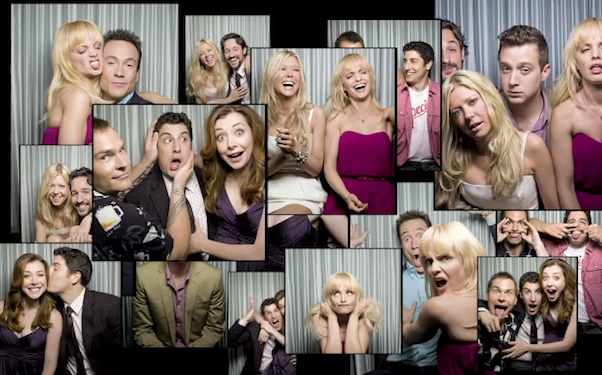 Posted by Matt Singer on
It's Halloween month, of course, and I've got a good scare for you this afternoon: it's the red band trailer for "American Reunion," the eighth "American Pie" film and the first in the series with the original cast since 2003. It may look like a comedy to you, but all I see when I look at this project is my youth, dead and wasted like so much discarded pie crust. Nothing like the realization of your own creeping mortality to put the fear of God in you.
That's why I'm guessing this first trailer for "American Reunion" has a red band; it's too depressing for old farts like me to watch it. Or maybe it's the multiple masturbation jokes and the tainted sock landing on a small child. Who knows. Could be a little from column A, a little from column B. Just be aware that unless you work in Internet porn or the personal lubrication industry, it's kind of NSFW.
Since the trailer for the original "Pie" saw Jim (Jason Biggs) get busted whilst jerking it to porn (back then it wasn't on the Internet, it was a scrambled channel on pay cable), there's some nice symmetry here. But then the fact that he now gets busted by his own son instead of his dad (Eugene Levy, the only guy to appear in all seven previous "Pie"s) sends me into another fit of uncontrollable sobbing.
Undiagnosed mental trauma (and kidding) aside, I am looking forward to the film, as much for the writers and directors ("Harold and Kumar"'s Jon Hurwitz and Hayden Sclossberg) as for the return of the entire original cast. Then again, looking at that original cast a dozen years later — Biggs and Alyson Hannigan, as seen in the trailer, plus Thomas Ian Nicholas, Chris Klein, Seann William Scott, Eddie Kaye Thomas, Tara Reid, Natasha Lyonne, Mena Suvari, Shannon Elizabeth, Jennifer Coolidge, John Cho, and, of course, Eugene Levy — should be pretty fun too (and, perhaps, spirit-crushing). I'll also be really curious to see how this film does with younger audiences. Do you they know and love the original films that way my generation did? Do they know it mostly as the generator of all those low-rent direct-to-video sequels? Do they even know it at all? The movie opens April 6 next year; if the box office is huge, I guess we'll have our answer. If it's not, that could be an even scarier day for Universal.
So what do you say: do you care about the "American Pie" franchise? Let us know in the comments below or on Facebook and Twitter.
[H/T First Showing]