ADAPT THIS: "Creature Tech" by Doug TenNapel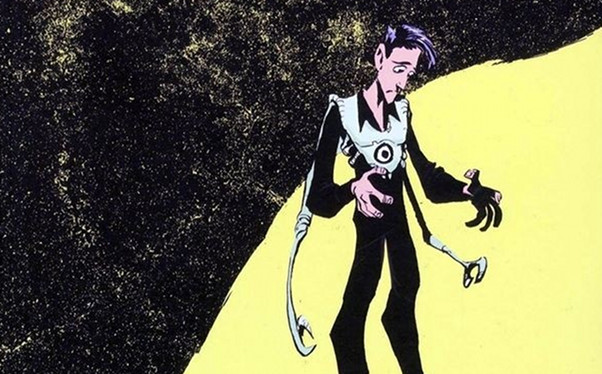 Posted by Rick Marshall on
With Hollywood turning more of its attention to the world of graphic novels for inspiration, I'll cast the spotlight on a new comic book each week that has the potential to pack a theater or keep you glued to your television screens. At the end of some "Adapt This" columns, you'll also find thoughts from the industry's top comic creators about the books they'd like to see make the jump from page to screen.
---
This Week's Book: Creature Tech by Doug TenNapel
The Premise: After brilliant scientist and former preacher Michael Ong is named head researcher at a strange government facility, his life takes a turn for the weird when an alien being attaches itself to his body in a symbiotic relationship that gives him strange new powers. Ong barely has time to register his condition before he finds himself battling slug monsters, demonic cat-beasts, and a mad scientist intent on conquering the world with the help of a giant space eel.
Luckily, Ong has help from the local rednecks, the alien attached to his body, and a human-sized, CIA-trained mantis. (And those are the good guys!)
The Pitch: It's worth pointing out right from the start that the adaptation rights to TenNapel's Creature Tech were bought up by 20th Century Fox way back in 2002, almost half a year before the the book hit shelves and only after an intense bidding war. However, there's been little word on the project since then, other than to announce that "Eureka" television series writer Andrew Cosby was working on the film's screenplay.
The creator of the "Earthworm Jim" franchise of games, television series, and toys, TenNapel channeled a similarly zany tone for Creature Tech, and it's easy to see how the tale of bizarre science and supernatural dangers run amuck could make for a fun big-screen adventure. When the book initially arrived on shelves, its story earned favorable comparisons to those of "Shrek" and the "Toy Story" movies, which also cast a quirky eye on their characters' worlds.
Even so, the element that makes Creature Tech seem most apt for adaptation has nothing to do with the story's eclectic cast of characters or the crazy things they get up to. What makes Creature Tech so appealing is that, at its core, it's actually a wonderful little love story.
Much like "Shrek" or countless other offbeat films set within a universe where real-world rules don't seem to apply, the one constant in Creature Tech is its main character's desire to protect the love of his life and reveal his true feelings to her. It's the sort of anchor that keeps a story grounded no matter how insane the environment becomes – which is good, because in Creature Tech, things get very, very insane.
Along with Michael Ong, there's a long list of fun, quirky characters to be found in Creature Tech, whether human, alien, ghost, or insect. In fact, if the source material is translated well, there's a good chance that supporting character Blue (a human-sized mantis trained by the CIA to be Ong's bodyguard) could earn more than a few cheers from audiences.
Creature Tech also features a great matchup of hero and villain, with the evil Dr. Jameson and his diabolical machinations matching up nicely with the film's unlikely hero. Like in all good stories of this sort, Ong is forced to face up to demons both within himself and in the world around him before he's finally able to save the day (and the girl).
The Closing Argument: If it's a standard studio pitch you're looking for, a good "Creature Tech" movie would blend the weird-science tone of "Eureka" and the offbeat heroism of "Monsters vs. Aliens" with a nice dose of "Men In Black"-style creature effects. The entertainment should come as much from the characters themselves as from the world they inhabit — a world filled with unbelievably strange elements around every corner.
Whether an adaptation of Creature Tech takes form as a live-action film with digital effects or an animated film, there's a great adventure just waiting to be mined in TenNapel's story of faith, love, and science-fiction. Here's hoping the studio sees it that way as well, and finally gets around to giving the adaptation the nudge it deserves.
---
Would "Creature Tech" make a good movie? Chime in below or on Facebook or Twitter.