ADAPT THIS: "Cinderella: From Fabletown With Love" by Chris Roberson and Shawn McManus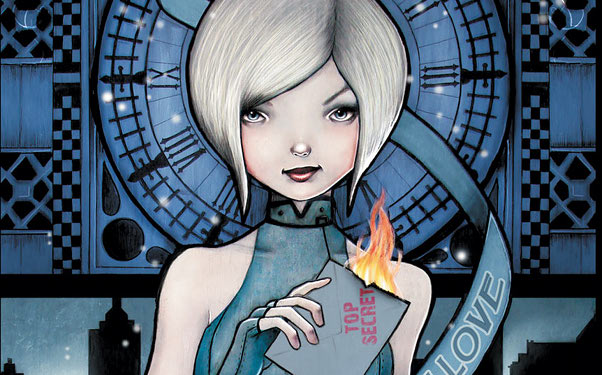 Posted by Rick Marshall on
With Hollywood turning more of its attention to the world of graphic novels for inspiration, I'll cast the spotlight on a new comic book each week that has the potential to pack a theater or keep you glued to your television screens. At the end of some "Adapt This" columns, you'll also find thoughts from the industry's top comic creators about the books they'd like to see make the jump from page to screen.
---
This Week's Book: "Cinderella: From Fabletown With Love" by Chris Roberson and Shawn McManus
The Premise: Popular storybook heroine Cinderella may seem like a man-crazy, shoe-obsessed ditz to the world at large, but she's hiding a big secret: she's actually one of the greatest spies who ever lived. Tasked with investigating the black-market sale of magical weapons, Cinderella's investigation has her crossing paths with Aladdin, Puss in Boots, and a variety of other famous (and not-so-famous) characters in this spinoff from Bill Willingham's award-winning Fables comic book series.
The Pitch: While a television series and/or movie based on Fables has been in the works for years now and suffered countless setbacks, an adaptation of Cinderella: From Fabletown With Love might actually be the best introduction to the wide-reaching universe Willingham has created. Unlike the first volume of Fables, much of Cinderella takes place outside the magical world of Fabletown, with the well-known character finding adventure in our mundane world (along with the occasional cameo from her fellow fables).
Along with the obvious appeal of an attractive female lead, a Cinderella television series would also serve up the architecture of the greater Fables universe in bite-size, episodic chunks. In many ways, this could solve one of the major problems in developing a live-action Fables series: the potential to overwhelm new audiences with the sheer number of characters, places, and stories that make up the world of Fables.
Combining action, espionage, and liberal doses of comedy as its main character strives to maintain her cover as the flaky owner of a shoe store, Cinderella would likely fill a genre niche similar to shows like "Alias" or "Covert Affairs." And though it would certainly find an audience among comic book and fantasy fans, it also has name recognition among anyone familiar with the character's storybook tale of glass slippers and fairy godmothers — which, let's face it, is pretty much everyone.
As for Cinderella herself, it's not difficult to see the career-building potential in the role. A talented actress would be able to show off her action chops, but also showcase her range when the series delves into more comedic or — on the other side of the spectrum — dramatic elements. Think "Alias" meets "Buffy the Vampire Slayer" and you're on the right track.
The Closing Argument: It's no secret that everyone wants an adaptation of Fables to both meet the high standards of its source material and illustrate why the series is so beloved by its fans. The big question, however, is how to find a way into the series' universe without scaring away mainstream audiences. Cinderella: From Fabletown With Love could very well be the answer.
Mixing real-world spy drama with a manageable number of well-known storybook characters, Cinderella offers a taste of the greater Fables universe without requiring anything more from its audience than a passing knowledge of the stories that made Cinderella and a few other well-known characters famous. If handled properly, that taste of a larger universe that Cinderella offers is very likely to have audiences clamoring to know more, leaving the door wide open for exploring other corners of the faerie-tale world Willingham has created.
---
Would "Cinderella: From Fabletown With Love" make a good television series? Chime in below or on Facebook or Twitter.