"A Dangerous Method," reviewed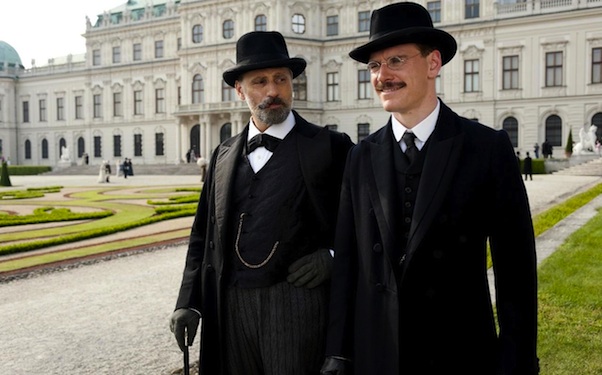 Posted by Matt Singer on
Reviewed at the New Orleans Film Festival.
Here is a director talking about a subject he's covered many times before in a totally new way. The filmmaker is David Cronenberg and his topic is the mysterious world of sexuality. From "Videodrome" to "Dead Ringers" to "Crash," Cronenberg has repeatedly returned to the mysteries of the human body and its basest urges. But where those earlier works were all luridly and wonderfully heated; "A Dangerous Method" is cold and dispassionate. The film takes its cues from its subjects, the pioneering psychoanalysts Sigmund Freud and Carl Jung, who appear to be quite coldly dispassionate themselves. Like Freud and Jung, "A Dangerous Method" approaches sex from a distinctly clinical perspective.
Jung, played by Michael Fassbender, is the focal point. As the film begins he acquires a new patient named Sabina Spielrein (Keira Knightley), a young woman prone to uncontrollable physical and verbal outbursts. Using the so-called "talking cure" pioneered by Freud (Viggo Mortenson), Jung uncovers the roots of Sabina's mania: a combination of childhood abuse and masochistic sexual desires. At the start of their sessions together, Sabina tells Jung (between grunts and moans) "I'm vile and filthy and corrupt. I must never be let out of here." Two years (and just a few brief scenes) later, though, her condition has improved greatly. Sabina enrolls at a local academy and studies to become a psychiatrist herself while Jung becomes more of her mentor than her psychiatrist (he also becomes more and more attracted to her, forcing him to consider an affair behind the back of his wealthy but uninteresting wife). Meanwhile Jung's work brings him to Freud's attention, and the two begin an ongoing dialogue about the nature of their field. The more traditional Freud wants to keep psychoanalysis rooted in science; Jung believes a more free-thinking and possibly supernatural strategy may be required.
Those hoping the triangle between Freud, Jung, and Spielrein might lead Cronenberg down some aggressively kinky paths will be disappointed by "A Dangerous Method" which, a few S&M tinged sex scenes between Fassbender and Knightey aside, is a fiercely reserved look at the nature of sexual desire; the camerawork and the narrative are as immune to wild, florid gestures as Jung and Freud. Cronenberg based his film on a play (and screenplay) by Christopher Hampton, but instead of "opening up" the drama he seems to have closed it off even further; whole sequences are built entirely out of back-and-forth montages of increasingly catty letters sent between Freud and Jung as they grow increasingly disillusioned with each other's attitude and behavior. The buttoned-up characters and their diagnostic conversations (or one-sided monologues) about topics like "the self-annihilating nature of the sexual act" rarely make for dramatic fireworks; don't expect a movie full of rat-a-tat therapist-and-patient dialogue a la Tony Soprano and Dr. Melfi. "A Dangerous Method" is much closer to Martin Scorsese's "The Age of Innocence," another film about a man bound by the rigors of society to reject his sexual desires on behalf of familial responsibilities. Pulling off that sort of ultra-restrained melodrama is no easy feat, and requires the work of actors capable of conveying characters with inner lives totally separate from the words coming from their mouths. Fortunately, Cronenberg's cast is beyond capable, they're exceptional; particularly Mortensen, who nails Freud's haughty dismissiveness perfectly.
Like its repressed characters, "A Dangerous Method" is often about the things that are left unspoken. Though the film follows the rivalry between Freud and Jung I think Cronenberg isn't really making a movie about who was ultimately right or wrong, but rather using their squabbles to illustrate the fact that psychoanalysts are just as nuts as the rest of us. Some of us may look more composed than others — not all of us have crazy twins or guns growing out orifices in our chests — but we've all got something to hide. The coldest, most dispassionate exteriors often disguise the most wildly emotional souls. Look closely and you'll see "A Dangerous Method" works exactly the same way. If you see just one movie this year about psychoanalysts writing snippy letters to one another, make it this one.
"A Dangerous Method" opens in limited release on November 23. If you see it, tell us what you think. Leave us a comment or write to us on Facebook and Twitter.