The 25 greatest video game trailers of all time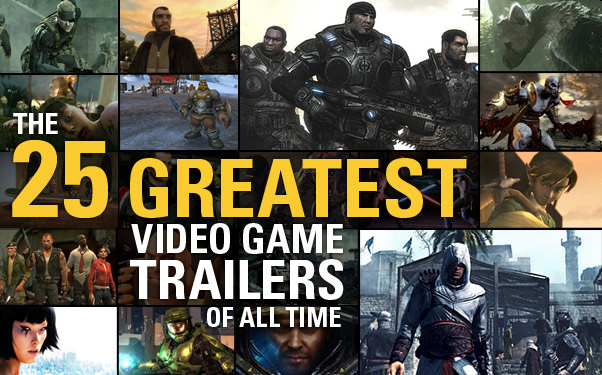 Posted by IFC on
As video games increasingly matched movies in their use of sweeping cinematics, it was only a matter of time until the gaming industry began taking its marketing cues from Hollywood as well. It's been no surprise then that video game trailers have increasingly become a key promotional medium beyond the standard commercial.
And like its film cousins, while the video game trailer might be a mere advertising tool to sell more copies, that doesn't mean it can't be a form of art. In just a few minutes a well-crafted game trailer should draw you in, make you care about the characters you're watching and, yes, make you want to buy the game. So with that in mind, here are 25 of our favorite game trailers through the years.
---
25. "Fallout 3" (2008)
Considering the franchise was in hibernation for years, Bethesda reintroduced the world to "Fallout" in a brilliant way. This cold, slow-building trailer is reminiscent of the opening cinematics from the first two games, complete with dated music and an eerie revelation of absolute destruction. It also gave us our first look at one of the most popular factions in the "Fallout" universe: The Brotherhood of Steel. The militaristic organization would play a huge role in the events of "Fallout 3," and this brief glimpse at their recognizable power armor made us tingle with anticipation.
---
24. "Killzone 2" (2009)
This is a bit of a sticky trailer to include, as it has since become clear that most of what was shown was smoke and mirrors, even though it was billed as running in-engine on the PS3. But, in terms of showing the promise of what Sony's new hardware could do, this "Killzone 2" trailer left minds racing. Were we looking at the future of video games? As it happened, not quite yet, though "Killzone 3" did manage to match and beat what was shown in this trailer with some truly incredible visuals.
---
23. "Super Smash Bros. Brawl" (2008)
Nintendo was never known for its fighting games, but the "Smash Bros." series changed that on the N64. The franchise's popularity only grew with its arrival on the GameCube and, with the Wii riding high at the time, the prospect of another sequel left fans desperate for any information they could get their hands on. Nintendo offered plenty in its first trailer for "Super Smash Bros. Brawl," revealing a handful of new characters, including one of the most shocking cameos in video game history: Solid Snake.
---
22. "Mass Effect 2" (2010)
Martin Sheen. Seriously if there was ever a better narrator for a video game trailer, it'd have to be the voice of god, because no one on Earth can beat Martin Sheen. Adding to the awesome is a cinematic introduction to the squad of "Mass Effect 2," giving the game a "Dirty Dozen"-like vibe. The "Mass Effect" trilogy may be ending in early 2012, but it's hard to imagine them being able to best this highlight of a trailer.
---
21. "LittleBigPlanet" (2008)
It may not be all that visually impressive, but there's no doubt that the world's first look at "LittleBigPlanet" reeked of charm. Backed by the Go! Team's "Get It Together," the trailer perfectly captures the magic of running around with your friends, taking on massive skateboards and tennis balls in a world made almost entirely out of felt. Perhaps more surprising about this trailer is that it doesn't even hint at the amazing level-creation tools within "LittleBigPlanet." And yet, even without those, it still managed to catch everyone's attention.
---